To open long positions on GBP/USD you need:
The British pound made another attempt to break through and consolidate above 1.2976 yesterday, but nothing good came of it. As a result, the day closed below 1.2967, which is now the first target of the bulls. Only a breakthrough of this range will provide the pound with a new growth wave to the area of a high of 1.3005, and possibly lead to a test of a larger level of 1.3049, where I recommend taking profits. However, the bears won't just let the pound go, so in case of a downward correction, you can look at long positions from the support of 1.2928, provided that there is a false breakout, a little above which the lower boundary of the new rising channel, which was formed from the lows of February 10, passes. If there is no demand for the British pound in the region of 1.2928, I recommend that you postpone purchases until the low of 1.2895 is updated, but with the expectation of a correction of no more than 20-30 points.
To open short positions on GBP/USD you need:
The formation of a false breakout in the morning in the resistance area of 1.2967 will be another signal to sell, which will lead to a downward correction to the support area of 1.2928, slightly above which the lower boundary of the new ascending channel passes. The breakout of this range will quickly push the pound to a low of 1.2895 and 1.2870, where I recommend taking profits. If the bears do not cope with the task of holding the resistance at 1.2967, then it is best to return to short positions to rebound from the highs of 1.3005 and 1.3049, however, they can only be updated if a very weak inflation report is released in the US, which is scheduled for publication in the afternoon.
Signals of indicators:
Moving averages
Trade is carried out in the region of 30 and 50 moving average, which indicates the problems of buyers with the pound's growth.
Bollinger bands
A break of the upper boundary of the indicator in the area of 1.2980 will lead to a new wave of growth. A break of the lower boundary of the indicator at 1.2945 will pull down the pound.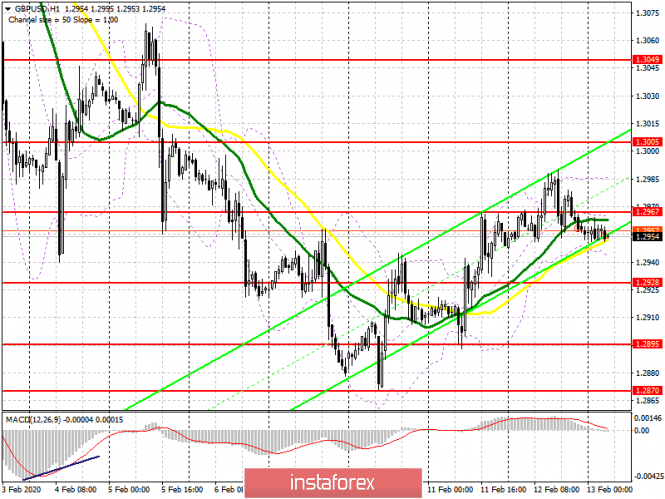 Description of indicators
Moving average (moving average determines the current trend by smoothing out volatility and noise). Period 50. The graph is marked in yellow.
Moving average (moving average determines the current trend by smoothing out volatility and noise). Period 30. The graph is marked in green.
MACD indicator (Moving Average Convergence / Divergence - Moving Average Convergence / Divergence) Fast EMA period 12. Slow EMA period 26. SMA period 9
Bollinger Bands (Bollinger Bands). Period 20
The material has been provided by InstaForex Company -
www.instaforex.com