EUR / USD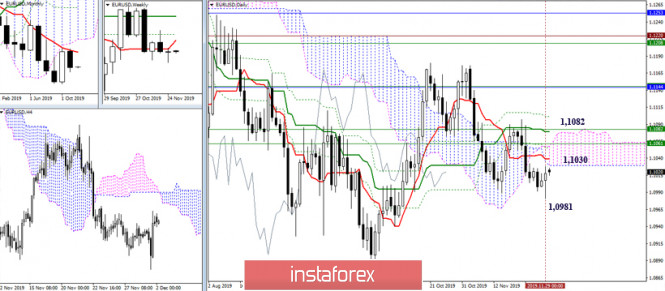 On Friday, the players on the upside showed activity and made an attempt to change the situation, which they partially succeeded. The other day, opportunities were formed for an upward correction and the weeks closed with a candle of uncertainty, but it was not possible to significantly change the mood of the month on its last day. As a result, it can be stated that it is important for the players on the downside to stay in the bearish zone relative to the daily cloud, maintain support for the weekly short-term trend and securely gain a foothold below the monthly minimum (1.0981). The most significant resistance zone is now located in the range 1.1030 - 1.1082 (daily cloud + daily cross + weekly levels). Now, consolidating above can serve to further strengthen the players to increase, with the goal of testing for strength the most important levels of this section, located in the area 1.1145 (monthly Tenkan + weekly Kijun).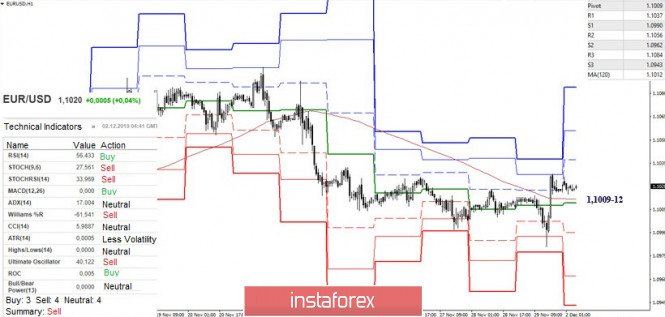 In the lower halves, the players on the upside consolidated above the key supports 1,1009-12 (central Pivot level + weekly long-term trend). Therefore, they have an advantage. Now, the weakening factors are the circumstances that the pair is in the downward correction zone, the development of which technical indicators support by a majority of votes. On the other hand, resistance of the classic Pivot levels 1.1037 - 1.1056 - 1.1084 can act as upward guides within the day today. In case of consolidation under the supports (1.109-12), the update of the minimum extremum of November (1.0981) will be of primary importance, then 1.0962 (S2) - 1.0943 (S3) can provide support.
GBP / USD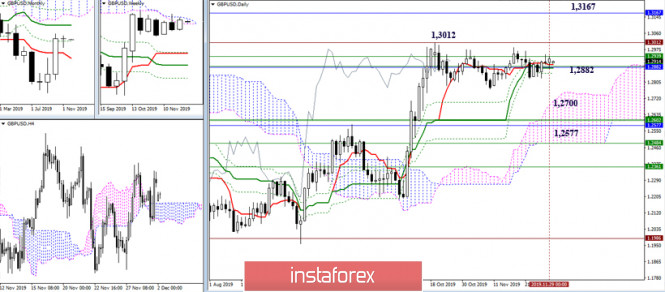 The players on the upside managed to close November with an ideal Doji candlestick, which in this place contains quite good bullish opportunities, hidden until the players on the upside updated the maximum extremum of 1.3012. Meanwhile, the breakdown of the weekly cloud and consolidation above the zone of inhibition and uncertainty can return bullish activity comparable to October activity to the market. The next resistance is the monthly Kijun (1.3167). The daily cloud (the upper boundary of the region 1.2700 - 1.2750) and the weekly cross Ichimoku, strengthened by the monthly Tenkan (1.2577), continue to remain as supports.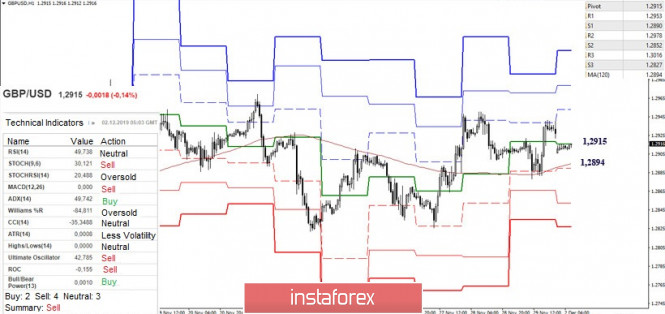 In the lower halves, uncertainty prevails, since the preferences of the analyzed technical instruments now diverge. Today and in the near future, the task of the players on the upside is to consolidate above the central Pivot level (1.2915), as well as the maximums of the last week (1.2950) and the zone of uncertainty of the higher halves (1.3012). For the opponent, in turn, it is important to take hold of the weekly long-term trend (1.2894) and go down to the lows of the previous week 1.2822 and November 1.2768 in this situation.
Ichimoku Kinko Hyo (9.26.52), Pivot Points (classic), Moving Average (120)
The material has been provided by InstaForex Company -
www.instaforex.com