To open long positions on GBP/USD you need:
Yesterday, the bulls made another attempt to break the resistance of 1.3000, but this did not lead to anything good. Only a new level at 1.3018 was formed, which now represents the main problem for buyers of the pound. Only after consolidating above this range will it be possible to speak about the continuation of the upward trend already in the area of highs 1.3074 and 1.3128, where I recommend taking profits. If the bulls fail to cope with resistance of 1.3018, and by analogy with yesterday, after updating the highs of the day, return to the area below 1.3018, in which case I recommend postponing long positions until the support test of 1.2966, subject to the formation of a false breakout, but buy GBP/USD immediately on a rebound from a low of 1.2904.
To open short positions on GBP/USD you need:
Sellers are also not in a hurry to return to the market and use only false breakouts after updating daily highs. I also recommend acting today. Failure to consolidate above 1.3018 will be the first signal to open short positions in GBP/USD, and the closest target for sellers will be the support of 1.2966. However, it will be possible to talk about the resumption of the downward trend only after a breakout and consolidation below this level, which will raise the pressure on the pair and lead to a decrease in the support area of 1.2904, which coincides with the low of this week. Breakout of this range will push the pair to December lows in the area of 1.2831 and 1.2767, where I recommend taking profits. In the scenario of a pound growth above the resistance of 1.3018 in the first half of the day, it is best to consider new short positions in the pair for a rebound from the highs of 1.3074 and 1.3128.
Signals of indicators:
Moving averages
Trade is conducted in the region of 30 and 50 moving averages, which indicates market uncertainty.
Bollinger bands
A break of the lower boundary of the indicator at 1.2966 will raise pressure on the pound. Growth above the upper boundary of the indicator in the area of 1.3018 will lead to new purchases.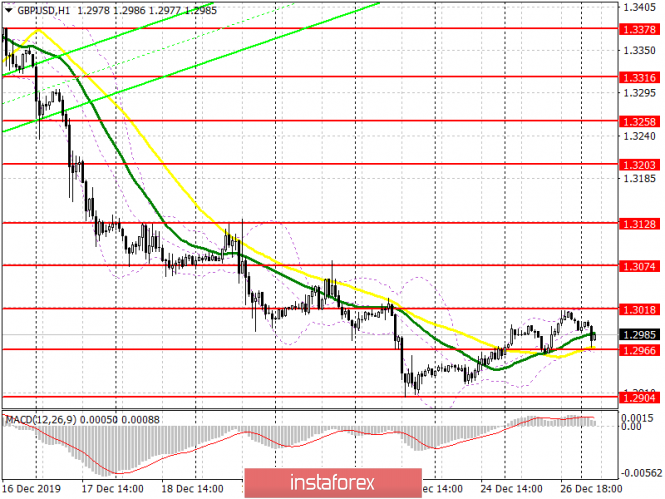 Description of indicators
Moving average (moving average determines the current trend by smoothing out volatility and noise). Period 50. The graph is marked in yellow.
Moving average (moving average determines the current trend by smoothing out volatility and noise). Period 30. The graph is marked in green.
MACD indicator (Moving Average Convergence / Divergence - moving average convergence / divergence) Fast EMA period 12. Slow EMA period 26. SMA period 9
Bollinger Bands (Bollinger Bands). Period 20
The material has been provided by InstaForex Company -
www.instaforex.com