To open long positions on EURUSD, it is required:
Yesterday's data on a sharp reduction in orders for long-term goods in the US did not allow the bears to maintain pressure on the pair, which limited the downward potential and led to a slight upward correction, with a return to the level of 1.1090, which is now transformed into the resistance of 1.1095. The entire focus is shifted to this area, and since no important fundamental statistics are scheduled to be released today, volatility is likely to remain at a low level. The only consolidation above the range of 1.1095 will lead to a larger upward correction in the area of the maximum of 1.129, above which it will be quite difficult to breakthrough. In the case of continued pressure on EUR/USD, it is best to return to long positions only on the support test of 1.1069, subject to the formation of a false breakout, or a rebound from a larger minimum of 1.1041.
To open short positions on EURUSD, it is required:
Sellers will protect the resistance of 1.1095, and the formation of a false breakout there will be a direct signal to open short positions in the continuation of the downward trend to update the lows of 1.1069 and 1.1041, where I recommend fixing the profits there. In the absence of pressure on the euro around 1.1095, it is best to postpone the sale until the update of the maximum of 1.129. It is also recommended to sell immediately on the rebound in the resistance area of 1.1172, the test of which will indicate the formation of a new upward trend in the euro.
Indicator signals:
Moving Averages
Trading is conducted in the area of 30 and 50 moving averages, which indicates market uncertainty.
Bollinger Bands
Volatility is low, which does not give signals to enter the market.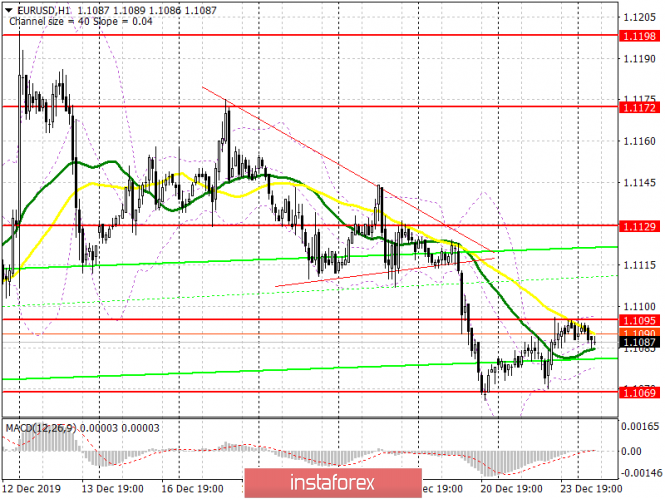 Description of indicators
Moving average (moving average determines the current trend by smoothing out volatility and noise). Period 50. The graph is marked in yellow.
Moving average (moving average determines the current trend by smoothing out volatility and noise). Period 30. The graph is marked in green.
MACD indicator (Moving Average Convergence / Divergence-Convergence / Divergence of moving averages) Fast EMA Period 12. Slow EMA Period 26. SMA Period 9
Bollinger Bands (Bollinger Bands). Period 20
The material has been provided by InstaForex Company -
www.instaforex.com