The pair is trading within the average weekly move today, which makes it possible to consolidate sales. Part of the deal can be left in case of continued downward movement. The main medium-term goal is still the weekly control zone 1.1020-1.1004. If today the pair goes beyond the middle course zone, then the probability of an upward corrective movement will increase to 90%.
Today there will be an expiration of option contracts on currency futures, which can increase daily volatility. For this reason, it is better to transfer positions to breakeven during the US session.
The downward movement is a priority, therefore, any growth up to the WCZ 1/2 1.1124-1.1116 must be used to search for a pattern to sell the instrument. Next week, the probability of updating the monthly low will rise again to 75%.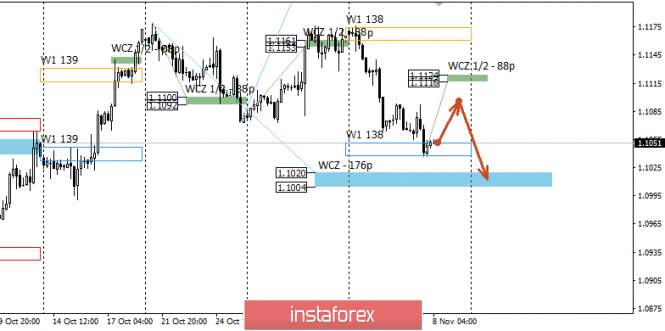 Daily CZ - daily control zone. The area formed by important data from the futures market, which change several times a year.
Weekly CZ - weekly control zone. The zone formed by important marks of the futures market, which change several times a year.
Monthly CZ - monthly control zone. The zone, which is a reflection of the average volatility over the past year.
The material has been provided by InstaForex Company -
www.instaforex.com