Friday's closing of trade occurred above WCZ 1/2 0.6747-0.6740. This indicates that the priority changed. Purchasing comes to the fore. The growth target is the weekly control zone 0.6820-0.6807. Any reduction must be used to find favorable prices for the purchase.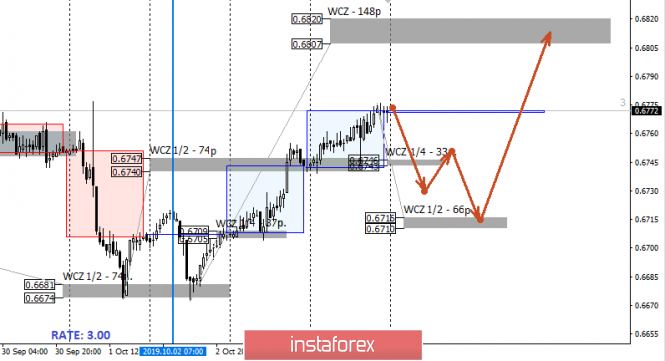 The closing of last week's trade occurred within the middle course. This suggests that the probability of a return is within the standard limit and that any support area should be used to enter the purchase.
An alternative option of a deeper correction will become relevant if the WCZ 1/4 is broken and the closing of the trade occurs below. This will allow you to get the most favorable purchase prices with the test WCZ 1/2 0.6716-0.6710. The growth targets will be the same as with a minimal correction on a weekly control zone. Working time from two to five days.
Daily CZ - daily control zone. The area formed by important data from the futures market, which change several times a year.
Weekly CZ - weekly control zone. The zone formed by important marks of the futures market, which change several times a year.
Monthly CZ - monthly control zone. The zone, which is a reflection of the average volatility over the past year.
The material has been provided by InstaForex Company -
www.instaforex.com