To open long positions on GBP/USD you need:
The euphoria from the failures of Boris Johnson that he suffered last week will gradually go away, as will the demand for the British pound. Today's GDP report may lead to an even greater downward correction of the pound, so buyers are hoping for continued growth, but it will be extremely difficult to do so. Resistance at 1.2333 continues to be a problem, and its break will provide a larger upward trend to the area of highs 1.2387 and 1.2427, where I recommend taking profits. However, it is best to make more rational purchases after the formation of a false breakdown in the support area of 1.2270, or to buy a rebound from the low of 1.2214, which can be updated after the release of weak data on GDP and industrial production.
To open short positions on GBP/USD you need:
Sellers did not allow the market to continue its growth on Friday, and they also failed to realize the first support level of 1.2280, which has now moved to 1.2270. An important task for the bears remains to consolidate below this range today, and fundamental data will help in this, since, most likely, the growth of the UK economy will continue to slow down further. The breakdown of 1.2270 will lead to a larger profit consolidation and to update lows 1.2214 and 1.2161, where I recommend taking profits, as new large buyers will return to the market from there. If the bullish momentum persists, and the pair breaks above the resistance of 1.2333, it is best to consider new short positions after updating highs of 1.2387 and 1.2427.
Signals of indicators:
Moving averages
Trade is conducted in the region of 30 and 50 moving average, which indicates some market uncertainty in the short term.
Bollinger bands
In case the pound increases, a break of the upper boundary at 1.2310 will lead to a new wave of growth. A break of the lower boundary of the indicator in the region of 1.2270 may strengthen the downward correction.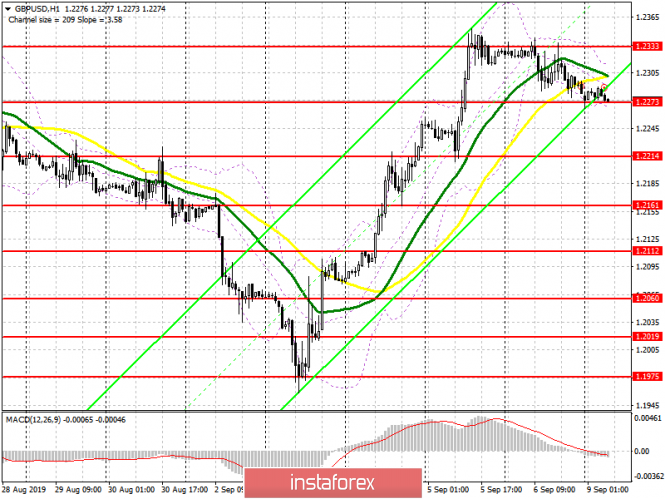 Description of indicators
MA (moving average) 50 days - yellow
MA (moving average) 30 days - green
MACD: Fast EMA 12, Slow EMA 26, SMA 9
Bollinger Bands 20
The material has been provided by InstaForex Company -
www.instaforex.com