To open long positions on GBP/USD you need:
The British pound once again tried to resume the downward correction, which was formed after the data on the decline in unemployment in the UK, which is a good signal for the economy. However, the GBP/USD pair did not lead to serious technical changes. At the moment, the task of buyers is to break through the same resistance at 1.2381, which limited the upward potential yesterday afternoon. This will make it possible for the bull market to resume, the target of which will be the highs of 1.2427 and 1.2460, where I recommend taking profits. If the bears build a downward correction, support will be provided by the level of 1.2315, but you can buy from there only under the scenario of the formation of a false breakdown. It is best to open long positions for a rebound in the region of a low of 1.2238.
To open short positions on GBP/USD you need:
Given that there is good news for the pound and Brexit is over, and Boris Johnson has time to think about the response, the likelihood of a pound decline in the near future has increased significantly. Sellers will actively defend a high of 1.2381, and the formation of a false breakdown there will necessarily lead to the correction of GBP/USD to the support area of 1.2315, where I recommend taking profits. With a larger closing of long positions, the pair may also test the 1.2238 area. If a bullish impulse leads to a breakthrough of resistance at 1.2380, it is best to consider new short positions after updating local highs in the areas of 1.2427 and 1.2460.
Signals of indicators:
Moving averages
Trade is conducted in the region of 30 and 50 moving average, which indicates some market uncertainty in the short term.
Bollinger bands
Volatility is gradually reduced, which does not provide signals on entering the market.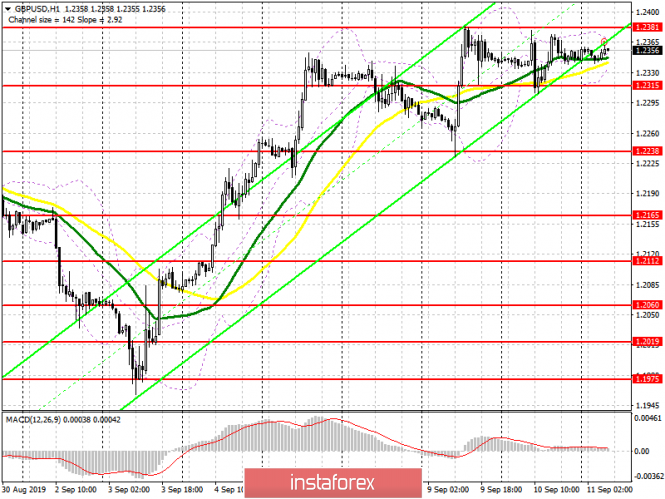 Description of indicators
MA (moving average) 50 days - yellow
MA (moving average) 30 days - green
MACD: Fast EMA 12, Slow EMA 26, SMA 9
Bollinger Bands 20
The material has been provided by InstaForex Company -
www.instaforex.com