To open long positions on EURUSD you need:
The euro fell against the US dollar yesterday after the US president seriously started talking about the introduction of trade duties on the automotive sector in relation to EU countries. Weak inflation data in Italy also put pressure on the pair. At the moment, bulls can count on the support level of 1.0985, from which divergence on the MACD indicator can form in the first half of the day, which will lead to a resumption of demand for the euro. Under the scenario of a larger decline in EUR/USD, you can count on purchases from a new low of 1.0955. The main task of the bulls is to return and consolidate above the resistance of 1.1034, but this will happen subject to good data on moods in the business environment of Germany and the eurozone. If the bulls manage to go above 1.1034, we can expect an update of the high of 1.1068, where I recommend taking profits.
To open short positions on EURUSD you need:
Sellers stopped selling, and, in my opinion, it is best to consider short positions after an upward correction to the resistance area of 1.1034 and only if a false breakdown is formed there. We should not forget that tomorrow the Federal Reserve could lower interest rates, which will put pressure on the US dollar. If the resistance breaks at 1.1034, it is best to sell EUR/USD by rebounding from a high of 1.1068. However, the main task of the bears in the first half of the day will be to go down to a support of 1.0985 and consolidate below it, which will cause the euro to sharply fall to a low of 1.0955, where I recommend taking profits.
Signals of indicators:
Moving averages
Trading is conducted below 30 and 50 moving averages, which indicates an attempt to return sellers to the market.
Bollinger bands
Breakthrough of the lower boundary of the indicator in the region of 1.0985 will only increase pressure on the euro, while the upper boundary in the area of 1.1034 will limit the upward potential.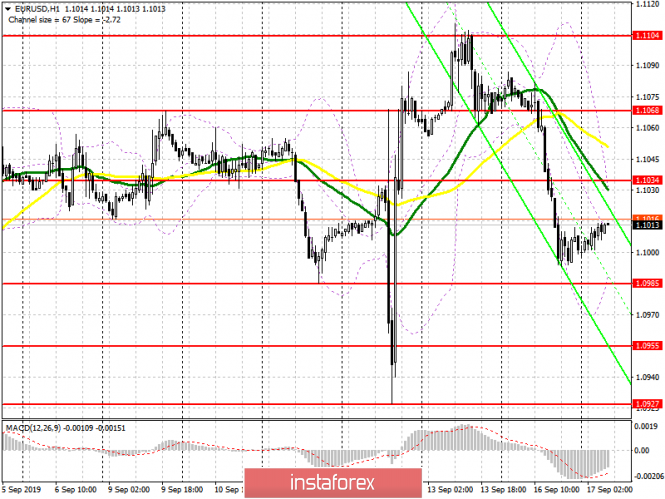 Description of indicators
MA (moving average) 50 days - yellow
MA (moving average) 30 days - green
MACD: Fast EMA 12, Slow EMA 26, SMA 9
Bollinger Bands 20
The material has been provided by InstaForex Company -
www.instaforex.com