Last week's close was outside the average weekly move. The pair reached the weekly control zone 1.2327-1.2294. This indicates an increase in the probability of forming a correction model. The main target of the fall will be the upper limit of the middle course zone, located at the level of 1.2168.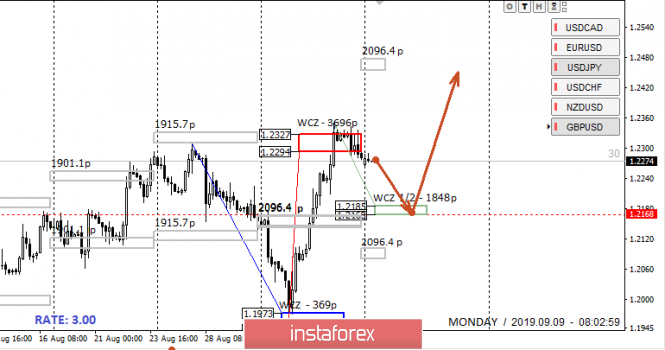 It is important to note that the range of the average course coincides with the WCZ 1/2 1.2185-1.2169, which allows us to consider these prices when searching for a pattern to buy.
The probability of a corrective decline in the pair is at 90%, which implies the benefit of searching for patterns in the direction of continued growth. There is little chance that the upward movement will continue from current levels. This is possible due to the strength of the upward movement. It took place practically without kickbacks, which indicates a large number of market buyers who agree to buy at increasingly higher prices.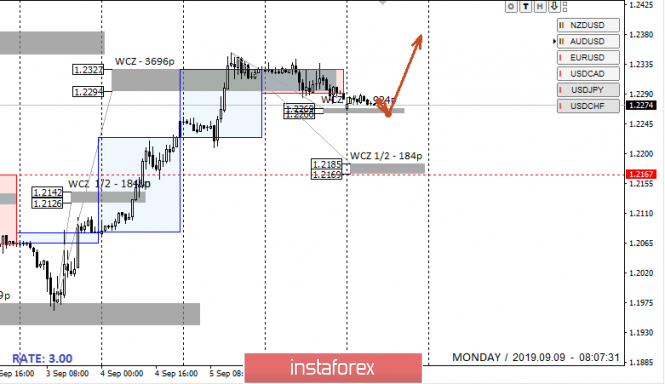 Daily CZ - daily control zone. The area formed by important data from the futures market, which change several times a year.
Weekly CZ - weekly control zone. The zone formed by important marks of the futures market, which change several times a year.
Monthly CZ - monthly control zone. The zone, which is a reflection of the average volatility over the past year.
The material has been provided by InstaForex Company -
www.instaforex.com