4-hour timeframe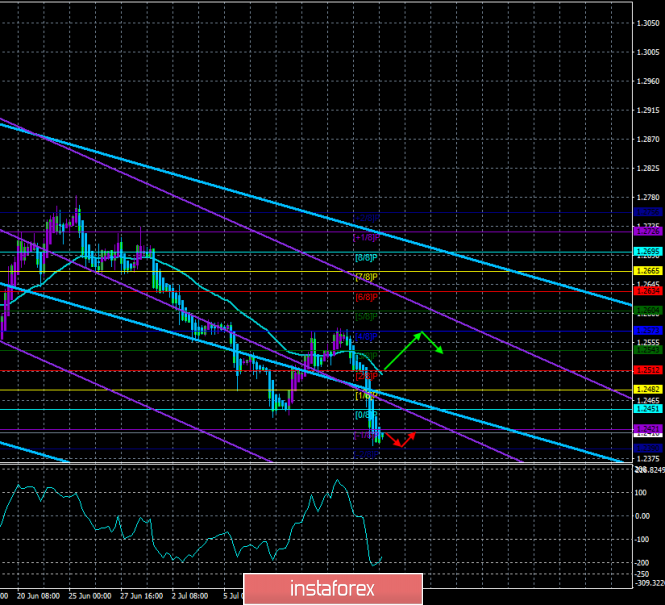 Technical data:
The upper linear regression channel: direction – down.
The lower linear regression channel: direction – down.
The moving average (20; smoothed) – down.
CCI: -152.8607
Today in the UK, the consumer price index for June will be published, however, judging by yesterday's market reaction to reports on wages, macroeconomic information from Britain is not particularly interested in traders. Markets are waiting for the completion of the election of the Prime Minister, the completion of Brexit, or at least some clarity on it. Thus, we believe that even if inflation accelerates today, it will not help the British currency very much. An upward correction to the moving average is possible, but it is still quite difficult for the bulls to count on something more. Meanwhile, the EU has once again disowned any new negotiations with the UK under the terms of the Brexit agreement. TThe EU placed particular emphasis on London's attempt to exclude from the agreement a point on "backstop", which will allow Northern Ireland to remain in the EU Customs Union after Brexit. The European Union said that the exclusion of this paragraph from the agreement is equivalent to the cancellation of the entire agreement. Thus, we once again draw attention to the fact that both UK Prime Minister candidates, Johnson and Hunt, can promise a lot of different things, but how many of them will be fulfilled? However, this is a normal situation for elections, when promises are maximum, and their implementation is possible. The most important conclusion from this is the approaching "hard" Brexit, traders feel it and continue to get rid of the pound sterling.
Nearest support levels:
S1 – 1.2390
Nearest resistance levels:
R1 – 1.2421
R2 – 1.2451
R3 – 1.2482
Trading recommendations:
The currency pair GBP/USD resumed its downward trend. Thus, it is again recommended to sell pound sterling with the closest target of 1.2390, after which all Murray levels are recalculated.
It will be possible to buy the pound/dollar pair with the goals of 1.2543 and 1.2573 not earlier than the price consolidation back above the moving average line, but with the minimum lots.
In addition to the technical picture should also take into account the fundamental data and the time of their release.
Explanation of illustrations:
The upper linear regression channel – the blue line of the unidirectional movement.
The lower linear regression channel – the purple line of the unidirectional movement.
CCI – the blue line in the indicator regression window.
The moving average (20; smoothed) is the blue line on the price chart.
Murray levels – multi-colored horizontal stripes.
Heiken Ashi is an indicator that colors bars in blue or purple.
The material has been provided by InstaForex Company -
www.instaforex.com