4-hour timeframe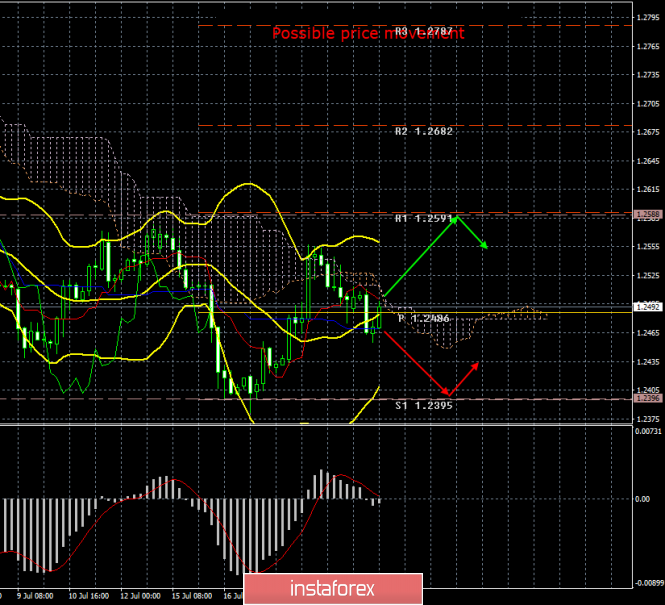 The amplitude of the last 5 days (high-low): 67p - 125p - 75p - 134p - 80p.
Average amplitude for the last 5 days: 96p (92p).
The British pound sterling has adjusted to the Kijun-sen line, which is supporting the pair's upward prospects. The price rebound from it may provoke a resumption of the upward movement, but there is a more significant factor for the GBP/USD pair for the coming days - these are the results of the election of the leader of the Conservative Party and the prime minister of Great Britain. The results will be known tomorrow in the morning. It is difficult to say how the market will react, for example, to the victory of Boris Johnson. On the one hand, Johnson supports the hard Brexit, which, according to many analysts and Mark Carney, will be destructive for the country's economy. On the other hand, Parliament has already insured itself against this case and will not allow Johnson to exit without a "deal". Thus, by and large, all of Johnson's campaign promises already look dubious. If there is no hard Brexit, Theresa May's Brexit deal, then what will happen? It is this question that perfectly illustrates everything that is happening in the UK in recent months or years. We do not even have a relatively probable scenario. Thus, in such a situation, we, the traders, are left to observe what is happening and react to the news, data, performances, and the pound remains to pray that the traders do not begin to get rid of it again. Consolidating the price below the critical line will make the bears more active, which will most likely return the pair to a support level of 1.2395.
Trading recommendations:
The pound/dollar currency pair continues to make a downward correction. Formally, long positions remain relevant with the target level of 1.2588, after the completion of the current round of correction. However, longs are still associated with increased risks.
It will be possible to buy the US dollar after the reverse consolidation of the pair below the Kijun-sen line which will lead to a change in the trend into a downward one. The first goal is the support level of 1.2395.
In addition to the technical picture should also take into account the fundamental data and the time of their release.
Explanation of the illustration:
Ichimoku indicator:
Tenkan-sen - the red line.
Kijun-sen - the blue line.
Senkou Span A - light brown dotted line.
Senkou Span B - light purple dotted line.
Chikou Span - green line.
Bollinger Bands indicator:
3 yellow lines.
MACD Indicator:
Red line and histogram with white bars in the indicator window.
The material has been provided by InstaForex Company -
www.instaforex.com