EUR / USD pair
Yesterday the euro experienced two hard blows. The first is the news of a possible revision by the ECB of its inflation target, which sent the euro down 34 points and the second is a statement by the head of the New York Fed chief, John Williams. He said the need for preventive measures by the Fed, which was understood by investors as a decrease in the rate immediately, by 5% at the next meeting, which, of course, tossed the euro back up. As a result, the euro closed the day with an increase of 52 points.
This morning, the press service of the Fed hastened to soften the reaction of the market, stating that the statement by William does not mean the decision of the regulator itself. Euro experienced fluctuations by another 35 points in the morning. Also in the media, a theme is being instilled about the possible preparation by the Treasury of currency interventions in order to carry out Trump's management center on compliance with the realities of currency wars. We do not believe that this can happen before the end of the year since only $94 billion is left on the balance of the Treasury. Moreover, they are primarily needed to finance the budget in the face of the parliament's refusal to consider raising the government debt limit. Also, the head of the Ministry of Finance Stephen Mnuchin bluntly stated that the management has no plans to change the position on a strong dollar.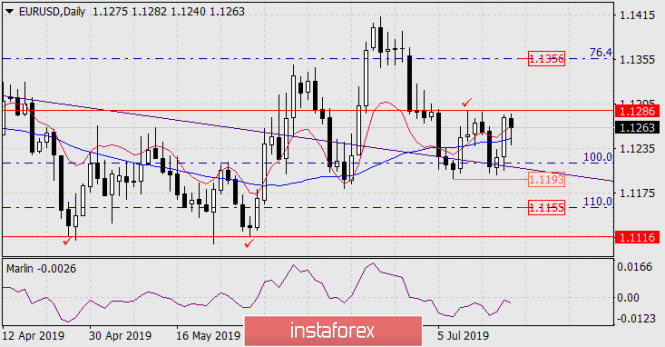 On the daily chart, the price has risen sharply above the balance line and MACD but this is not a signal for further growth. The price from July 5th simply winds up on this line. However, the yield of the price at the July 11 maximum on 1.1286 may provoke the market to pull the euro down to the Fibonacci level of 76.4% at a price of 1.1356.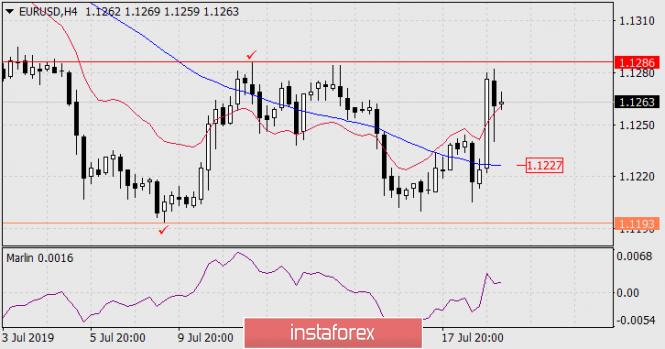 On the four-hour chart, the current price is above the balance lines and MACD. The Marlin oscillator is in a rising position and there are signs to continue moving up. But since yesterday, as described above, the market is extremely sensitive to speculative sentiment. Even today's data on the balance of payments in the Eurozone are expected to rise from 20.9 billion euros to 21.2 billion can be ignored. In case of price-fixing under the MACD at 1.1227 on H4, it calls for further reduction. The range of 1.1227/86 is a free walk zone for the euro.
The material has been provided by InstaForex Company -
www.instaforex.com