The EUR/USD pair has been quite volatile after bouncing off the 1.1200 support area with a daily close.
The Fed is under pressure because of the low inflation and uncertainty over its key rate. Some Fed's officials believe that a half percent rate cut will boost inflation and help the economy to return to growth. Though the outlook for economic growth is "solid," boosted by consumer spending, business spending has been "lackluster" and sentiment has been soft, allowing inflation to run below the Fed's 2% goal for too long could entrench lower inflation expectations in the future and make it harder for the Fed to effectively cushion the economy with rate cuts when needed. Recently, Fed Chairman Powell has pointed to a few national surveys as evidence business confidence took a hit recently, particularly in May after President Donald Trump threatened to impose tariffs on Mexican imports unless his demands about tougher immigration enforcement were met.
Today, the US PPI report is going to be published. The reading is expected to be unchanged at 0.1%. The figure of Core PPI is also expected to be unchanged at 0.2%.
German annual inflation accelerated to 1.5% in June but remained below the European Central Bank's target. Inflation in the euro zone has long been below the ECB's target i.e. at 2% and the European Commission recently lowered its estimates for euro zone growth and inflation, stating that uncertainty over U.S. trade policy posed a major risk to the Euro economy. With a trade war between the United States and China hurting euro zone exporters and the Federal Reserve widely expected to cut its interest rate, the ECB is coming under pressure to ease its own policy again. Policymakers deemed annual price growth of 1.6 percent currently forecast for 2021 to be "some distance away" from that goal and said there was "no room for complacency" in the face of plummeting inflation expectations on financial markets.
Now let us look at the technical view. The price is currently residing above 1.1250 area at the trend line resistance area after breaking below with daily close. The pair has been in a strong bearish trend. It is expected to push lower towards 1.1200 and later towards 1.1050 support area.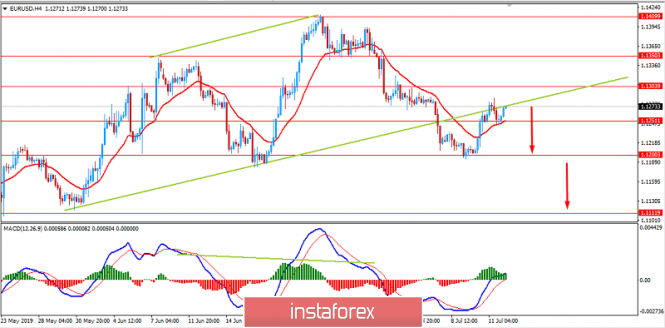 The material has been provided by InstaForex Company -
www.instaforex.com