CHF rose to USD indicating strong bearish momentum. The price of the pair resided at the edge of 1.00 support area with a daily close. The US economy is likely to be under a turbulent mood due to mixed economic data and trade war tension. The US economy is expected to slow down until the market sentiment improves.
During the FOMC meeting, all members agreed to stick to a dovish monetary policy and keep the key interest rate unchanged. However, the trade tension between the US and China and inflationary pressure are weighing the economy down. Amid the U.S.-China trade tension, market uncertainty worsens the forecast about economic growth. The newest round of U.S. tariffs on Chinese imports will cost the typical American household $831 annually.
Moreover, amid the trade-war rumblings, investors fled to the safety of bonds and drove down yields, a potential negative for bank profits. Recently, the New Home Sales report showed a decrease to 673k from 723k which was expected to be at 678k. Today, the US Core Durable Goods Orders report is going to be published. The reading is expected to drop to 0.1% from 0.3% The Durable Goods Orders are expected to fall to -2.0% from 2.6%.
On the other hand, despite the weakened economy, the Swiss Franc managed to sustain gains as the greenback lost momentum. The Swiss franc remains a fundamentally bearish currency due to interest rates of -0.75% and inflation falling further into negative territory. Opposition from across the political spectrum will make it all but impossible for the Swiss government to sign a draft treaty with the European Union next month, sources close to the matter. Failure to sign the accord that Brussels has sought for a decade and which was negotiated over four years would plunge Swiss ties with its biggest trading partner into a new ice age, potentially disrupting trade and cross-border securities deals.
Next week, the Swiss Trade Balance report is scheduled to be published as well as the GDP report. Analysts say that it won't make great shakes because of the lack of news in the Swiss economy and a downtrend in the Eurozone.
The US dollar is likely to lose ground against the Swiss franc. Certain volatility and pullbacks may be anticipated.
Now let us look at the technical view. The price recently formed Bullish Divergence while pushing lower towards 1.00 support area with a daily close. The price is currently resting above 1.00 area with certain bullish pressure in the process which is expected to lead the price higher towards 1.0050 area where the dynamic level of 20 EMA currently resides before pushing lower with the preceding bearish trend in the coming days. As the price remains below 1.0130-50 area, the bearish bias is expected to continue.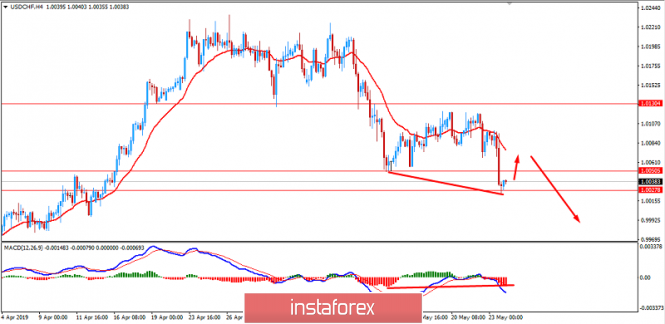 The material has been provided by InstaForex Company -
www.instaforex.com