JPY has been sustaining the bearish momentum in the pair. GBP is still extending weakness. It is expected to continue its slide.
The UK has to deal with political turmoil. Besides, downbeat economic reports are bearish for GBP. Recently UK Public Sector Net Borrowings report was published with a negative result of increasing to 0.8B from the previous figure of -0.5B which was expected to decrease further to -0.8B. Though yesterday was a day of indecision in the pair, JPY managed to sustain the momentum even today.
The Bank of England is likely to keep interest rates on hold until August 2020 because of a slowdown in the global economy and lingering uncertainty about Brexit. The British central bank has raised rates twice to 0.75 percent from an all-time low of 0.25%. However, Governor Mark Carney said the outlook for the economy is now shrouded in the "fog of Brexit."
A downturn in the global economy and its knock-on impact on oil prices and other imports force global central banks to revise monetary policy. In the UK, uncertainty about Brexit has also kept the BoE on the sidelines. The UK is facing more uncertainty about its future relationship with the European Union after a deadline for Brexit was delayed from April 12 until the end of October this month.
On the JPY side, the Bank of Japan kept monetary policy steady on Thursday and clarified its intention to keep interest rates very low for a prolonged period. The BOJ maintained its short-term interest rate target at minus 0.1 percent and a pledge to guide 10-year government bond yields around zero percent. According to BOJ Officials, the regulator intends to maintain record low levels of short-term and long-term interest rates for an extended period, at least through around spring 2020. The Press Conference today is going to provide clues to upcoming JPY momentum. Tomorrow Tokyo Core CPI report is going to be published which is expected to be unchanged at 1.1%, Unemployment Rate is expected to rise to 2.4% from the previous value of 2.3%, Retail Sales are expected to expand to 0.8% from the previous value of 0.6%, and Housing Starts are also expected to increase to 5.6% from the previous value of 4.2%.
There are higher chances for JPY to continue the bearish momentum over GBP because of optimistic expectations of upcoming economic data. If it comes true, JPY will gain solid support. Moreover, there is a slim chance for to see a strong bullish counter-move as GBP has been weighed down by weak economic data from the UK.
Now let us look at the technical view. The price is currently approaching the support area of 144.00 support area. If it is broken with a daily close, the pair will continue trading lower under bearish pressure with a target towards 141.00 support area in the coming days. On the contrary, a bounce off the 144.00 area is expected to inject certain bullish pressure in the pair which may result in consolidation from 144.00 to 147.00.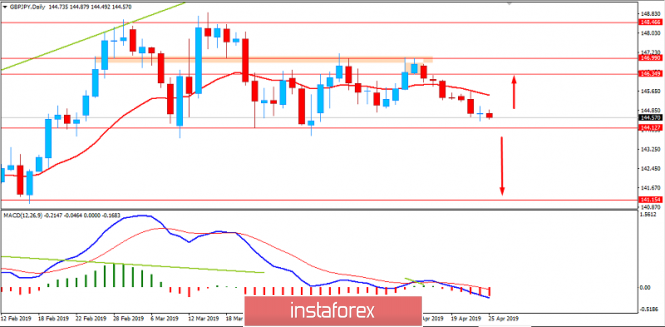 The material has been provided by InstaForex Company -
www.instaforex.com