This Thursday, OPEC countries will meet in Vienna to discuss the recent drops in oil prices. The excess of crude oil stocks, mainly due to the increase in US production and concerns about the state of the global economy, pushed WTI crude oil prices below $ 50 per barrel for the first time since October 2017. It is true that the G20 summit and Vladimir Putin's statement about cuts in mining caused a rise in prices by over 4%, but it is still far to the finale of this story.
Saudi Arabia, which is an informal leader of an oil producer organization, points to the need to significantly reduce oil production from January 2019 but its plans were under pressure from Donald Trump. The President of the United States wants low prices, which he believes strongly supports the global economy. In the past, he has repeatedly accused the cartel of inflating prices. So how will future oil prices look like?
This question is difficult to answer at this moment. Countries from the OPEC group meet in a difficult environment. Recent reports about the desire to exit Qatari from the cartel heavily hit the image of the group. In just two days, the group will have to work out a common opinion on cutting production, but this is only the first step to reaching an agreement.
The key factor without which OPEC decides to cut is Russia, which, according to sources in OPEC, is conducting tough negotiations. Without reducing production from Russia, OPEC countries alone will not limit mining. So Thursday's OPEC meeting is just an introduction to real negotiations that will take place on Friday.
Let's now take a look at the Crude Oil technical picture at the daily time frame. The market has made a Shooting star candlestick formation around the level of 54.79 and since then the price went down a little as the downtrend continues. Moreover, the attempt to break out back above the lower channel line has failed and the price is still trading below this line. This supports the near-term bearish outlook and a possible test of the technical support at the level of 49.40 again.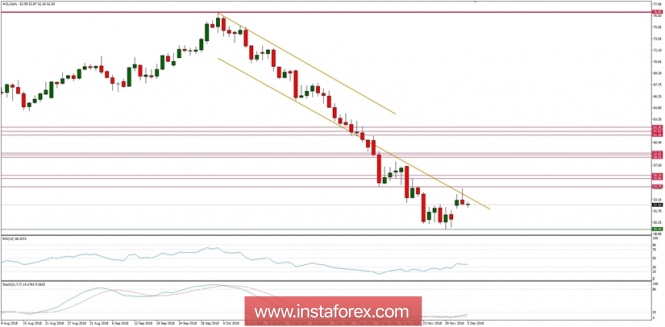 The material has been provided by InstaForex Company -
www.instaforex.com