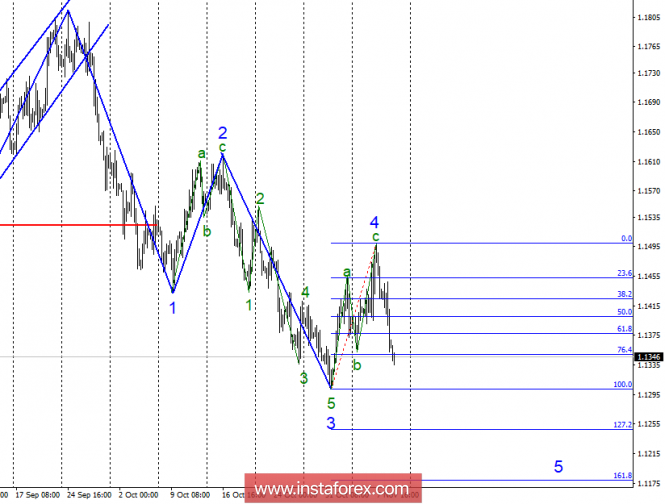 Wave counting analysis:
In the course of trading on Thursday, the EUR / USD currency pair fell by 60 basis points after the results of the Fed meeting became known. The wave marking of the instrument has undergone certain changes, since the breakdown of the minimum from November 5 with high probability means the complication of the downward trend section, which now has to transform into a 5th wave structure with targets in the fifth wave located around 12 figures.
The objectives for the option with sales:
1.1248 - 127.2% of Fibonacci
1.1179 - 161.8% of Fibonacci
The objectives for the option with purchases:
1.1499 - 0.0% of Fibonacci
General conclusions and trading recommendations:
The currency pair completed the construction of a 3-wave upward structure. Thus, I now expect the pair to decline in the area of 12 figures and recommend to sell again with targets located near the estimated marks of 1.1248 and 1.1179, which corresponds to 127.2% and 161.8% of Fibonacci.
The material has been provided by InstaForex Company -
www.instaforex.com