US President Donald Trump thanked Wednesday Saudi Arabia for lowering oil prices, comparing this decision to a "big tax reduction" for his country and the world, but at the same time called Riyad to an even greater reduction in fuel prices: "Oil prices are falling even more. Great! For the United States, it's like a big tax reduction in the world. Now, it's $ 54, and it was 82. Thanks to Saudi Arabia, but let go even more!" - wrote Trump on Twitter.
Oil barrel prices in New York and London rose to the highest level in four years in early October, and investors were worried that oil prices would not drop significantly in the global market due to US sanctions against Iran. Like Saudi Arabia, Saudi Arabia has greatly increased oil production to prevent shortages in the market. The US president spoke on oil prices shortly after he considered the matter of his government's reaction to the murder of Saudi journalist Jamal Khashoggi. He argued that economic and strategic relations with Saudi Arabia are more important than whether the leaders of the Saudi kingdom were behind this crime. Trump reminded that Saudi Arabia "is the second producer of oil in the world", and if Washington broke off relations with this country, "the prices of oil in the world would go flying to the sky."
The United States expects Saudi Arabia as one of the leaders of the Organization of Petroleum Exporting Countries (OPEC) to be able to convince other countries to increase oil production so that prices remain at current levels. Oil prices began to grow earlier this year in view of the US's use of sanctions against Iran, the third producer among OPEC countries.
Let's now take a look at the Crude Oil technical picture at the H4 time frame. The market is trading close to the recent swing low at the level of 52.75 after a failed attempt to rally above the level of 55.85. The momentum remains weak and negative, which supports the bearish outlook despite the oversold market conditions. The next target is seen at the level of 50.00 as the downtrend continues.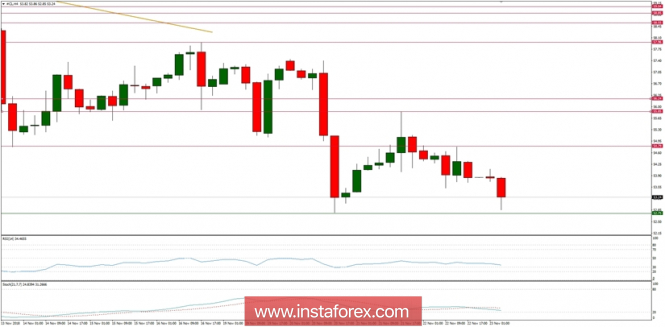 The material has been provided by InstaForex Company -
www.instaforex.com