GBP / USD
The British pound jumped 100 points yesterday due to the publication of materials in the media about reaching an agreement on a free trade area and the approval of the EU-UK political declaration. We regard this market reaction as short-term. The reason for the growth was formal since these agreements were registered in a joint declaration two weeks ago when they were spoken about by Barnier, Merkel and British politicians. The declaration has not been signed yet. This weekend, May will have final negotiations before signing it. She also threatens the parliament that if it resists, the country will leave the EU without a deal at all ("either my deal or no").
We are considering the option of the Parliament adopting the actually finished Brexit version, but we don't expect any significant growth of the British pound on this issue which was discussed in the early reviews (November 14 ). Of course, the growth of the pound directly on the good news is very possible. And in the current situation, the technical picture clearly represents such options: the first condition for growth should be the yesterday price high at 1.2927, after which the price is expected to be resisted by the Krusenstern line on the daily scale around 1.2990, overcoming which the price will tend to the resistance of the nested price channel line at 1.3135.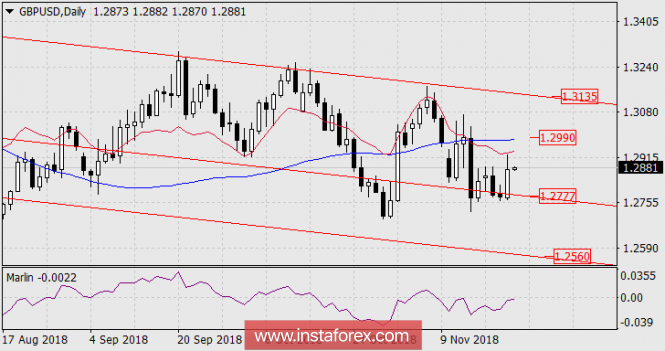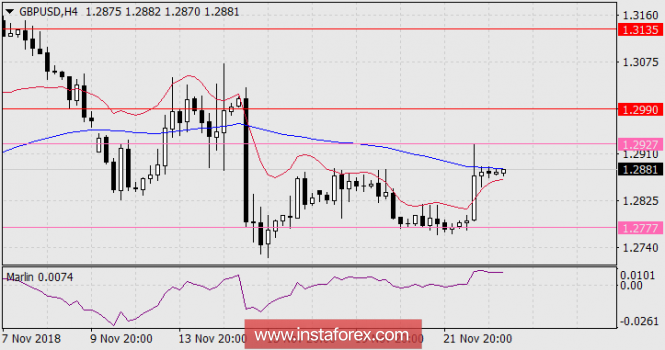 The main option, which has already lost some of the advantages, implies a price reversal from the Krusenstern line on a four-hour scale. The first target is the nearest price channel line at 1.2777. Fixing under it will re-open the target of the downstream line in the area of 1.2560.
The material has been provided by InstaForex Company -
www.instaforex.com