According to the published document, the Department of the Federal Revenue of Brazil (RFB), which manages the collection of taxes in the country, wants to receive monthly reports on cryptographic operations.
In the document, RFB announced that the cryptographic exchanges in Brazil are now obliged to send monthly detailed reports on all operations related to cryptography. For example, companies need to disclose transaction amounts and customer identities.
In addition, both legal entities and natural persons resident in Brazil are now required to report all transactions that they have carried out on foreign cryptocurrency exchanges if they exceed 10,000 Brazilian Reals ($ 2,700) per month.
The RFB project on cryptographic taxes also defines the scope of penalties for those who do not report their transactions. The citizens will have to pay 400 dollars for late filing of the tax declaration. Where the information provided is insufficient or false, the RFB may impose a fine of up to 3 percent of the value of the transaction.
Tax supervision has already opened public consultations to receive proposals for a new regulation: comments will be accepted from October 31 to November 19. In the explanatory note, the regulator states that such measures have been taken due to a significant increase in the crypto industry in the country. According to RFB, the number of cryptocurrency clients has already exceeded the number of users registered on B3 - the Brazilian stock exchange based in Sao Paulo. In turn, the daily number of transactions carried out by the five main Brazilian exchanges exceeds 8.3 million realities (about 2.2 million dollars).
Let's now take a look at the Bitcoin technical picture at the H4 time frame. The market has broken below the golden trend line support and made a local low around the level of $6,350 which was just above the technical support at the level of $6,344. Currently, the market is hovering around the weekly pivot in neutral market conditions and neutral momentum. The nearest technical resistance is seen at the level of $6,382.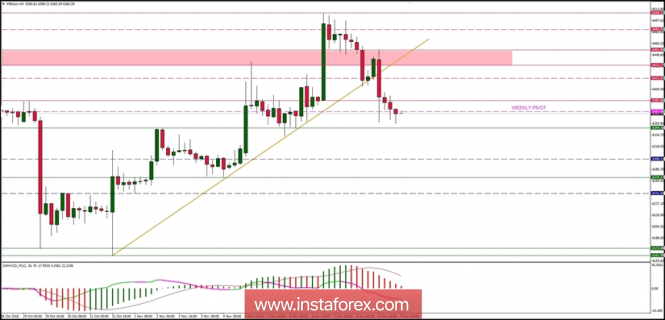 The material has been provided by InstaForex Company -
www.instaforex.com