Former US President Bill Clinton spoke at a conference on cryptocurrencies to convey the word of warning to policymakers who want to regulate what he terms promising technological progress. On stage at the Ripple's Swell conference in San Francisco, Gene Sperling, a former White House advisor currently on the board of the Ripple, joined Clinton. Clinton - who was president of the United States in 1993-2001 - was the main speaker at this event.
In recent months, the company has been enthusiastically entering the establishment's circles. Just a few days ago, it was reported that Ripple, together with several other companies, created Securing America's Internet of Value Coalition (SAIV), a support group that will partially pay off its lobbying company in XRP.
During a question and answer session with Sperling, Clinton touched upon many topics, such as the cybersecurity challenges facing the US government. He also discussed topics that go beyond the theme of the conference in the field of financial technology, including laws regarding weapons, foreign policy and his latest published novel.
However, perhaps the most important thing for customers in Swell was Clinton's statement about "disproportion in access" to new, growing technologies, such as Blockchain, in which he compared the current situation to e-commerce solutions in the late 90s: "The more new technologies are developed, such as Blockchain ... AI technologies, robotic technologies ... the more the differences in access will be felt " - he said.
Clinton also admitted that new technologies could be abused, pointing to fears that terrorists or other criminals might use cryptocurrencies to launder money. Referring to similar problems in relation to technologies such as the GPS (Global Positioning System), Clinton noted that one must try to identify the faults in an intelligent manner and that the old regulatory regime cannot be applied to the new technology: "You have to end up killing the hen that folded the golden eggs "- he added at the end of his speech.
Let's now take a look at the Ripple technical picture at the H4 time frame. The market is still moving inside of the downward channel and the technical support at the level of 0.4924 is getting closer. The market conditions are now oversold and there is a developing bullish divergence between the price and the momentum indicator. Please notice, the latest rally at this cryptocurrency might now be over and the strength is still visible in the foreground. The nearest technical resistance is seen at the level of 0.5259.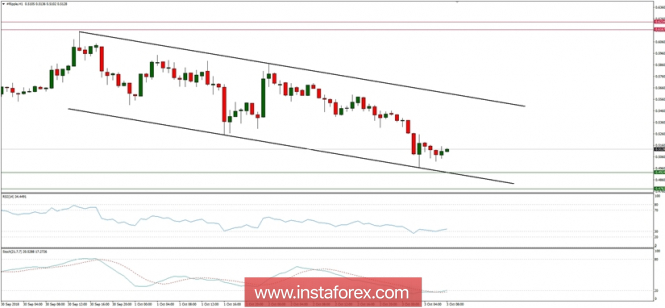 The material has been provided by InstaForex Company -
www.instaforex.com