To open long positions on the GBP / USD pair, you need:
Today, the pound buyers need to keep the level of 1.3184, where the 30-day moving average is located. the formation of a false breakdown around 1.3217 will be a direct signal to buy the pound in order to reach the highs of 1.3269 and 1.3315, where taking profits are recommended. In the case of a larger downward correction, traders of long positions can return on the rebound from the support of 1.3147. Attention should be focused on the speech of the head of the Bank of England.
To open short positions on the GBP / USD pair, you need:
A breakout and consolidation below the support of 1.3217 will be the first sell signal for the pound, but a larger downward correction can begin only after the decline and breakdown of the 1.3184 area, which will lead the GBP / USD to yesterday's minimum level to 1.3147, where taking profits recommended. In the case of further growth of the pound trend, you can sell on a rebound from the maximum of 1.3269.
Indicator signals:
Moving averages
As long as trade is conducted above the 30-day and 50-day average, the demand for the euro will remain. Support in case of decline will have a 30-day average in the region of 1.3180.
Bollinger bands
In the event of a decline, the middle border of the Bollinger Bands indicator around 1.3205 will support the pound. A break of the upper border around 1.3245 will be a signal to open new long positions.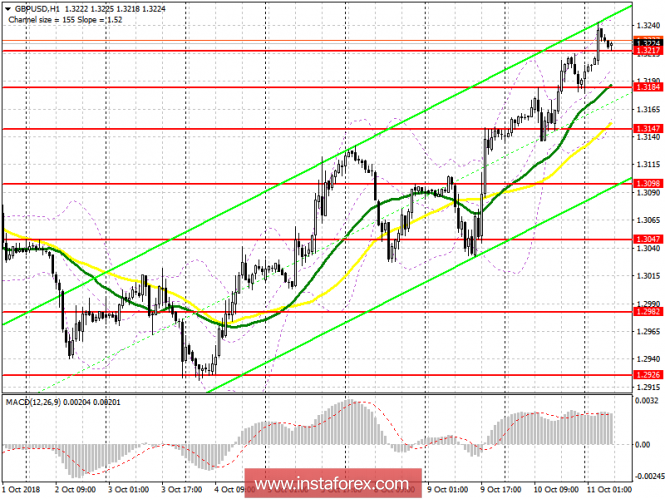 Description of indicators
MA (moving average) 50 days - yellow
MA (moving average) 30 days - green
MACD: fast EMA 12, slow EMA 26, SMA 9
Bollinger Bands 20
The material has been provided by InstaForex Company -
www.instaforex.com