GBP/USD has been impulsive with the recent bearish momentum which is expected to lead to further bearish pressure in the coming days. Despite the recent mixed economic reports having better results in some medium impact economic reports, GBP is struggling to gain momentum over USD which does indicate the weakness of the currency in the process.
This week GBP Official Bank Rate report is going to be published which is expected to be unchanged at 0.75% whereas the Monetary Policy Summary is also expected to be quite neutral in the process. Recently Britain has raised its official forecast for the economic growth in 2019 as GDP may grow to 1.6% which was forecasted to be at 1.3%, while the outlook for subsequent years was unchanged. Recently GBP Net Lending to Individuals report showed an increase to 4.7B from the previous figure of 4.3B which was expected to be at 4.1B, M4 Money Supply decreased to -0.3% from the previous positive value of 0.1% which was expected to increase to 0.3% and Mortgage Approvals decrease to 65k as expected from the previous figure of 66k. Today CBI Realized Sales report is going to be published which is expected to increase to 27 from the previous figure of 23.
On the USD side, having mixed economic reports recently, the currency failed to raise impulsively over GBP recently. Ahead of the upcoming NFP reports which are also expected to be quite mixed with the outcomes, USD gains may take a bit longer to generate against GBP this week. Today S&P/CS Composite -20 HPI report is going to be published which is expected to increase to 6.0% from the previous value of 5.9% and CB Consumer Confidence report is expected to decrease to 136.3 from the previous figure of 138.4.
As of the current scenario, this week is going to be quite volatile and corrective having high impact economic reports on the both currencies of the pair whereas GBP having certain hawkish expectations for the coming months may lead to certain gains whereas if USD performs better in NFP and upcoming economic reports throughout the week looking over the expectations certain gains on the USD side may also be observed. To sum up, currently, USD is expected to gain momentum over GBP for a certain period before GBP tries to counter with positive reports.
Now let us look at the technical view. The price has recently retested 1.2850 area with a daily close after the break below the area. As per current price action, the price is expected to push lower towards 1.2500-50 support area in the coming days as the price remains below 1.2950 with a daily close.
SUPPORT: 1.2500-50
RESISTANCE: 1.2850, 1.2950
BIAS: BEARISH
MOMENTUM: NON-VOLATILE and IMPULSIVE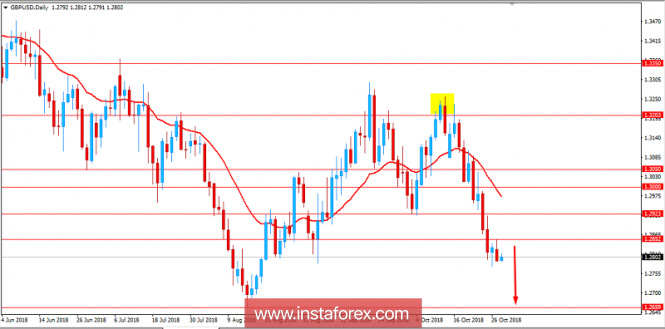 The material has been provided by InstaForex Company -
www.instaforex.com