4-hour timeframe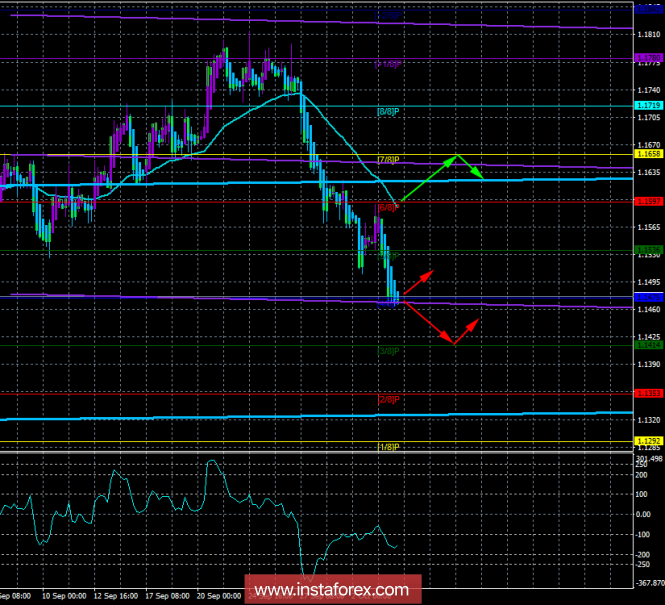 Technical data:
The senior linear regression channel: direction - sideways.
The younger linear regression channel: direction - sideways.
Moving average (20; smoothed) - down.
CCI: -152.9550
The EUR / USD currency pair, after the minimal upward correction, resumed a strong downward movement and completed the Murray level "4/8" - 1.1475. Retail sales for the euro area, published the day before, in annual terms exceeded the forecast value (1.8% vs. 1.7%). Although this factor had no special significance for the market. But the ADP report on the change in the number of workers in the private sector, which also exceeded the forecast, caused additional demand for the US dollar. All indices of business activity across the States, published yesterday, also turned out to be better than market expectations and further increased the desire of traders to buy the dollar. Thus, it can be said that macroeconomic statistics for America had a strong impact on the market. No important news is scheduled for Thursday, October 4th. However, there is every reason to assume a further decline in the pair, since the demand for the dollar is now extremely high. The key question now is what will Donald Trump do with the new round of strengthening the national currency? As he has repeatedly pointed out, he does not need a strong dollar and damages the country's economy. However, the position of Trump is not too worried about traders, they continue to invest in the currency of the country, whose economy shows the highest results.
Nearest support levels:
S1 - 1,1475
S2 - 1,1414
S3 - 1.1353
Nearest resistance levels:
R1 - 1.1536
R2 - 1.1597
R3 - 1.1658
Trading recommendations:
The EUR / USD currency pair has resumed its downward movement. Thus, it is still recommended to trade short with a target of 1.1414. Heikin Ashi's upward reversal will signal a new round of corrective movement.
It is recommended to consider long positions not earlier than traders overcome the moving average line. In this case, the trend in the instrument will change to ascending, and the target will be the level of 1.1658.
In addition to the technical picture should also take into account the fundamental data and the time of their release.
Explanations for illustrations:
The senior linear regression channel is the blue lines of unidirectional movement.
The junior linear regression channel is the purple lines of unidirectional movement.
CCI - blue line in the indicator window.
The moving average (20; smoothed) is the blue line on the price chart.
Murray levels - multi-colored horizontal stripes.
Heikin Ashi is an indicator that colors bars in blue or purple.
The material has been provided by InstaForex Company -
www.instaforex.com