A recent report by a research company for technological research, ReportLinker, shows that Blockchain technology in the manufacturing sector in the US is expected to grow significantly in 2020-2025. During the preparation of the report, its authors share the application of Blockchain according to the application, end-use and territory. The research then divided the Blockchain industry into the production market based on final use, for energy, industry, automotive, pharmaceuticals, aerospace and defense, food and beverages, textiles and clothing, and other sectors.
According to the research, Blockchain on the production market is expected to increase by 80 percent by 2025. It will simplify business processes and ensure transparency and consistency, eliminating intermediaries in logistics and the supply chain. The authors report several factors driving growth, among which the most important is the development of block-like-as-service (BaaS) solutions for enterprises and a significant increase in venture capital and Initial Coin Offerings (ICO) investments.
However, the report states that the uncertain regulatory situation and the lack of a uniform set of standards prevent the development of the blockchain in the production market. The MAPI Foundation, which conducts research and issues policy recommendations on the conditions of the US manufacturing sector, said in March that since January 2018 industrial production was 4.7 percent lower than in December 2007. Despite the recession crisis in 2008, MAPI forecasts that the manufacturing sector in the US will regain full lost production by April 2019.
In August, Blockchain Deloitte study in 2018 showed that technology is gaining significant driving power at the executive level of enterprises in various industries. 74 percent of survey respondents said that their executive team believes that there is a "convincing business case" in the use of Blockchain technology, 34 percent say that some forms of Blockchain implementation were already under development within the organization.
Let's now take a look at the Bitcoin technical picture at the H4 time frame. The market was trying to rally above the technical resistance zone established between the levels of $6,550 - $6,603, but was capped at the level of $6,560 and dropped back towards the weekly pivot level. The horizontal cycle is still in progress and it is getting tight in here for both of the market participants, so the breakout soon occurs soon. Please notice, that the larger time frame trend remains bearish, so the chances for a downside breakout are higher.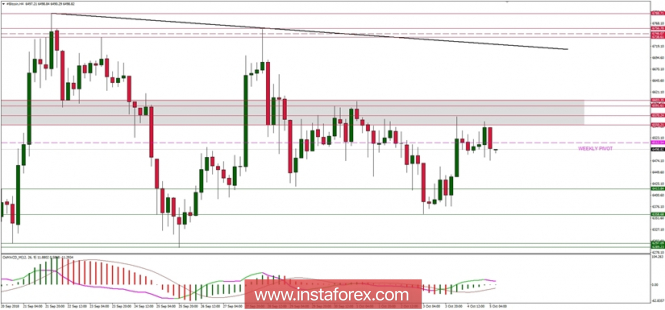 The material has been provided by InstaForex Company -
www.instaforex.com