The European currency fell against the backdrop of good data on the US economy, where the manufacturing sector continued to show growth at a faster pace than expected. But the British pound remained to bargain in the side channel, even after the head of the Bank of England, Mark Carney, said at an inflation hearing in the UK Parliament that he wants to remain in office.
According to the report of the Institute of supply management ISM, the index of supply managers PMI in the manufacturing sector in August this year rose to 61.3 points against 58.1 points in July. Let me remind you that the index values above 50 indicate an increase in production activity. Economists had expected the index in August to be 57.5 points.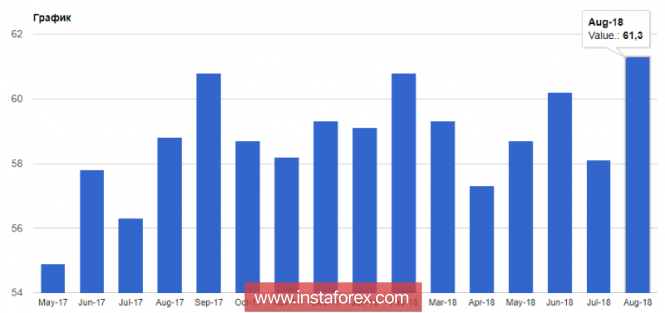 As noted in the ISM, the growth of the index occurred due to new orders, increase in production rates, as well as employment.
But the indicator of manufacturing activity in the US according to IHS Markit showed a slight decrease.
According to the report, PMI purchasing managers' index fell to 54.7 points in August against the July value of 55.3 points. Despite this, the drop in the index only indicates that the conditions in the manufacturing sector have improved, just at a slower pace than before.
The speech of the President of the Federal Reserve Bank of St. Louis James Bullard could lead to a slight decline in the US dollar against risky assets by the end of the North American session on Tuesday, although this is unlikely, since he has no voting rights in the Federal Open Market Committee on open market operations.
Bullard urged his colleagues to abandon the next increase in interest rates. In his opinion, an earlier tightening of monetary policy will negatively affect the pace of economic growth. Bullard also said that the September increase in interest rates is a resolved issue. The representative of the Federal Reserve also drew attention to the need for closer monitoring of economic data, which is now being received.
As I noted above, the British pound remained to bargain in the side channel, after the Bank of England Governor Mark Carney signaled that he wanted to manage the Central Bank longer than previously planned.
The lack of demand for the pound in the background of this news is a bad signal for its buyers.
The head of the Bank of England said he was ready to do everything possible to support the economy during the Brexit period, since failure to reach an agreement could lead to real pressure on the population's incomes.
The material has been provided by InstaForex Company -
www.instaforex.com