After a long weekend, Wall Street returned to work on Tuesday. In a situation where the situation did not improve in developing markets. Argentina's plans to reduce the deficit or rumors about raising rates in Turkey have not helped the currencies of these countries. He was also losing the South African Rand. Indexes in Germany and France have dropped by losing more than one percent.
But of course, the Americans, as usual, could not take it easy. They were more likely to be interested in the fate of the NAFTA treaty after Donald Trump's weekend verbal assault on Canada. The president's threats to Russia, Syria and Iran could also be alarming in the event of an attack on the Idlib province, where the survivors of anti-government forces sought shelter.
On Tuesday in the USA, the PMI (final read) and ISM indexes for the industrial sector were published. PMI index in August amounted to 54.7 pts (expected from a drop from 55.3 to 54.5 pts), and ISM index in August amounted to 61.3 pts (expected from a drop from 58.1 pts to 57.7 pts) .). Expenditures for construction investments in July increased by 0.1% MoM (0.5% expected). Wall Street still showed that he did not see any threats. It can be said that investors believe that the US is a paradise whose atmosphere nothing and nobody will disturb. Nevertheless, there is an evident increase in risk aversion across the world, and the deteriorating situation in emerging markets also hits developed markets. For now, fortunately, this does not translate into a serious strengthening of the dollar (the EURUSD rate returned even today above 1.16), but it may be a matter of time. This pessimistic approach was supported by the fact that during today's session in the US, it will be much harder for the SP500 to return to zero. The NASDAQ, who is harmed by the Congress meeting on Internet social platforms and their sensitivity to hacker attacks or other problems that may lead to the loss of sensitive data, is seriously retracted. Dow Jones remains almost neutral, but he will probably be the fourth consecutive successive consecutive one. When we look at how incredibly strong Wall Street has remained against the world in recent times, the correction may be very close.
Let's now take a look at the SP500 technical picture at the H4 time frame. Indeed, the indexes started the session from declines, but they were small and immediately demand increased. After the creation of the session double bottom, the SP500 index moved north and it was only guessing whether the end of the session would be the victory of bears or bulls. Nevertheless, the gap between the levels of 287.63 - 288.62 was almost filled and a bounce from this zone occured. The neraest important resistance is seen at the level of 289.37.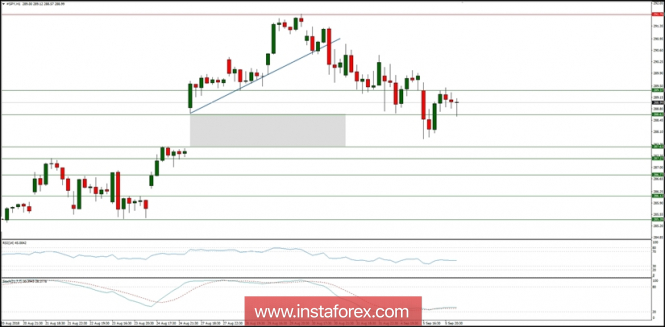 The material has been provided by InstaForex Company -
www.instaforex.com