Optimism associated with the more conciliatory attitude of the United States in negotiations with trade partners temporarily diminishes as a driving force of market change. At night, trade was very dreamy today, but the dollar's minimal appreciation is a noticeable trend. WTI crude oil after inventory data according to API is close to the minima this week, but also less than USD 1 from local maxima around 69.20.
EUR / USD falls below 1.17 and GBP / USD moves back towards 1.2850. USD / JPY defended 111.00 and it is about 20 pips higher. The weakest is AUD as it is losing to USD 0.4%.
In the US session, the SP500 and Nasdaq Composite broke new bull market records, but the scale of increases was symbolic. The futures contract for SP500 is at 2900 points. In Asian markets, the calm day of Shanghai Composite falls 0.25%, a similar scale, but the rise, notes Hang Seng and Nikkei 225.
An interesting session is being prepared for Wednesday, the 29th of August. By noon market participants will get data on consumption in Germany (GfK Consumer Climate) and the state of the economy in France (GDP and Consumer Spending). Later it will be even more interesting - the US will publish information on GDP growth, the real estate market and oil inventories. Closer to reaching agreement on the issue of NAFTA, Canada is ready to defend the pact. The finale of the Brexit negotiations is also slowly being clarified.
GBP/USD analysis for 29/08/2018:
The issue of Great Britain's negotiations on the exit from the European Union is very unclear. The recent article in one of the popular financial media reached "people familiar with the subject", and it was written, that there is no chance of reaching an agreement in October. The new deadline is now set to mid-November.
The EU meeting will start on October 18 and it was this date that was previously considered as final in the negotiations. Nevertheless, prolonged conversations are an indicator of the problem in reaching an agreement. Over time, the risk of an unfavorable result will be higher for the United Kingdom, as the country will leave the EU on March 29 next year.
Let's now take a look at the GBP/USD technical picture at the H4 time frame. The market has tried to rally higher, but the bulls were too weak the break through the level of 1.2935 and now the price is testing the blue trend line support at the level of 1.2854. Any breakout lower will be considered bearish and the next target for bears is seen at the level of 1.2828 and 1.2798. Please notice the momentum indicator is pointing to the downside as the market is moving off the overbought zone.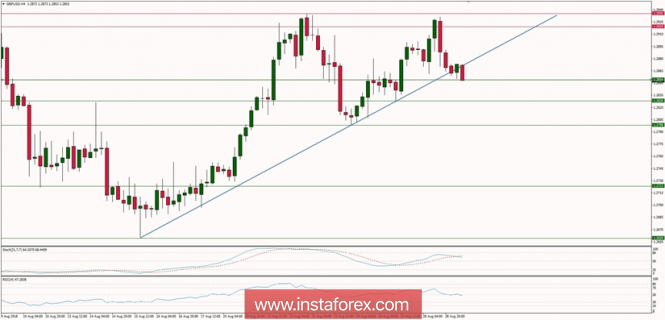 The material has been provided by InstaForex Company -
www.instaforex.com