Trading plan 08/27/2018
The general picture: There are more questions than answers.
The market was very much waiting for the Fed summit in Jackson Hole. However, the expectations were not met, and quite unexpectedly, the summit was ignored by the heads of the world's largest after the Fed, there was no ECB and the Bank of Japan. Consequently, the issue of coordinated policy has hung in the air. Moreover, the EU and the ECB are actively discussing the creation of an independent US bank transfer system. Apparently, this is due to the US-EU disagreements over Iran.
The second open question is the US-China trade war. The next portion of the US duties against China came into force. At the same time, US-China talks on trade were held in the US at a low level. There are no reports in the media about the breakthrough, most likely, there is no progress. The question is open.
Last week was closed under the sign of a decline in the dollar, to European currencies. The yen, at the same time, is trying to decline towards the dollar.
Fed Chairman Powell confirmed in Jackson Hole the Fed's continued commitment to a slow increase in the Fed's rate to prevent the economy from overheating (note that the first US GDP data for the 2nd quarter showed not only a strong GDP growth of 4.1%, but also an increase in GDP deflator inflation to + 3%, and earlier many years, the Fed believed normal inflation was 2.5-3.0%, not higher - that is, the Fed is about to switch to inflation control).
On Thursday there will be fresh data on inflation of the RFE.
Pound: We buy at the breakthrough level of 1.2890, upward.
Sales are possible at the breakthrough level of 1.2799, down.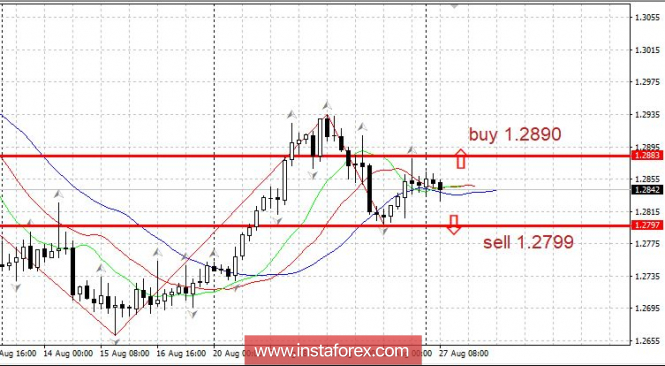 The material has been provided by InstaForex Company -
www.instaforex.com