The European currency continued its decline paired with the US dollar after weak data on inflation in Germany, where growth rates fell, and against the background of the European Commission report, which shows that experts expect a decline in the Eurozone economy in 2018.
According to the statistics agency, the annual inflation rate in Germany slowed in June, a negative sign for the European Central Bank, which plans to complete the asset purchasing program by the end of this year.
Thus, the final consumer price index CPI of Germany in June increased by only 0.1% compared to May and by 2.1% compared to June last year. Annual inflation in May this year was 2.2%. As before, the main increase was due to energy prices, which increased by 6.4% over the year. Food prices increased by 3.4% compared to June last year.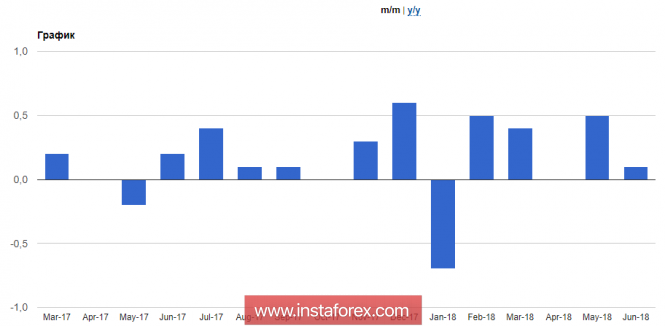 The European Commission's report also did not benefit the European currency. It is evident that the economic forecast for 2018 has been revised for the worse. The Eurozone GDP is expected to grow by 2.1% in 2018 against the previous forecast of 2.3%. In 2019, the Eurozone GDP is still projected to grow by 2%.
But the data on inflation were revised in a positive way. The report indicates that the European Commission predicts inflation in the eurozone in 2018 at 1.7% against the previous forecast of 1.5%. Inflation in the For 2019, inflation in the eurozone is projected at 1.7% against the previous forecast of 1.6%.
Economic growth will slow, despite good fundamentals, as US protectionism is fraught with significant downside risks to the economic growth of both the global economy and the euro area economy. Also, the tension in foreign trade relations in the future will further damage confidence and economic growth.
Data on industrial production in the euro area did not have a strong impact on the quotes of risky assets. According to the report of the statistical agency, industrial production in the eurozone in May 2018 increased by 1.3% compared to April and 2.4% compared to the same period in 2017. Economists had expected that industrial production of the eurozone in May will grow by 1.2% and 2.4%, respectively.
The representative of the Fed, Loretta Mester, had a positive impact on the quotations of the US dollar. According to the president of the Fed-Cleveland, a strong economy allows raising rates in the US two more times this year. If the Fed refrains from further raising rates, the risks can significantly increase, which will affect the pace of economic growth.
The material has been provided by InstaForex Company -
www.instaforex.com