The euro slightly rose yesterday morning against the US dollar against the backdrop of good data on Germany's exports, but risky assets did not manage to hold their positions, and already positive fundamental reports on the US led to profit fixation in the European currency and strengthening of the US dollar.
According to the report of the Federal Bureau of Statistics of Germany, exports in May this year rose amid escalating trade tensions between the US and China. Thus, exports from Germany increased by 1.8% compared to the previous month, while imports showed growth of only 0.7%. In the period from January of this year to May, exports to the countries of the eurozone grew by 6% compared to the same period in 2017.
Germany's foreign trade surplus totaled 20.3 billion euros in May, while economists expected a surplus of 20.0 billion euros.
In the course of his speech, the representative of the ECB Novotny said that a currency trade could join the trade war. In his view, US protectionist measures will harm the entire global economy.
Novotny also drew attention to the fact that the deflationary threat in the eurozone was left behind, and reinvestment of funds received by the ECB from bonds should not be aimed only at long-term bonds.
The attention of traders and investors yesterday was also riveted on the speech of ECB President Mario Draghi, who said that the basic fundamentals are still strong, despite the fact that economic growth has become more moderate. According to Draghi, the basic inflation is expected to accelerate, but in this connection, it will happen, the ECB president did not specify.
In the second half of the day came data on the US, which provided support to the US dollar. According to the report, the index of employment trends of the Conference Board in June this year increased. So, the index was 108.94 points against 107.72 points in May. In comparison with the same period of the previous year, the index in June rose by 5.2%.
As noted in the Conference Board, the situation on the labor market will continue to improve in the coming months.
Consumer lending in the US in May also increased, which will support the economy in the future.
According to the report of the Federal Reserve System, unsecured consumer lending in May 2018 increased by 7.61%, or by 24.56 billion US dollars, compared with the previous month. Economists forecast an increase of 12.75 billion dollars.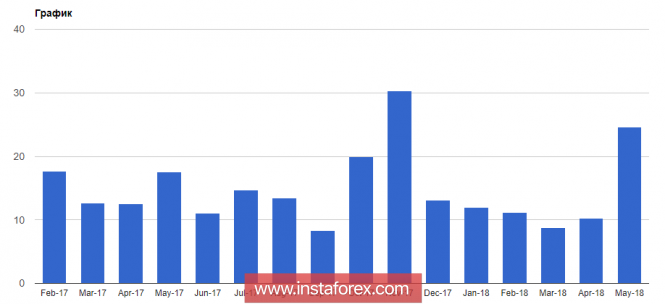 The material has been provided by InstaForex Company -
www.instaforex.com