Cryptocurrency users are unloading their frustration after the mainstream media reports that the cryptocurrency market has collapsed due to the hacking of the small South Korean Coinrail exchange.
When recorded a decline both bitcoin and altcoins on the 10th of June, sources such as Bloomberg, Wall Street Journal, Reuters or The Guardian claimed that the break-in to the Coinrail exchange - which according to local media caused 37 million dollars in losses - it was the direct cause of the collapse of markets. The stock market confirmed the burglary on Twitter and in the post on its website, but has not determined the exact losses yet.
"The enthusiasm for virtual currencies has partially decreased due to the string of cyber attacks," wrote Bloomberg, citing a Singaporean forex investor who said that Coinrail led to a reflexive sale, causing prices to fall. The Wall Street Journal added a block to the confusion emerging from recent events, claiming that the altcoins stolen from Coinrail were "alternative versions of bitcoin."
Both reports confirmed the small scale of the Coinrail operation. The stock market is only on the 99th place in terms of trading volume, amounting to USD 2.65 million on the day before the break-in. Nevertheless, the financial media believes that Bitcoin's price fell by 11%, because a small cryptocurrency market in South Korea, which is used by a very small proportion of local users was hacked, while most likely Bitcoin fell because people were selling, and too few people were willing to buy, not because of a small hack.
One of the theories about Sunday's price decline is that the reason may have been the screening of four US stock exchanges by regulators, while traders point to long-term reasons to explain bitcoin's behavior.
Let's now take a look at the bitcoin technical picture on the H4 time frame. Not much has changed since yesterday as the bitcoin price had bounced and now stays in the horizontal zone between the levels of $6,588 - $6,937 (weekly pivot). There is not much buying going on as well, perhaps the bulls are not interested yet in this prices. Nevertheless, the short-term key technical resistance is seen at the level of $6,993 and then at $7,225. Only a clear and sustained breakout above this levels could change the short-term bias to slightly bullish. The key long-term technical resistance is seen at the level of $7,890.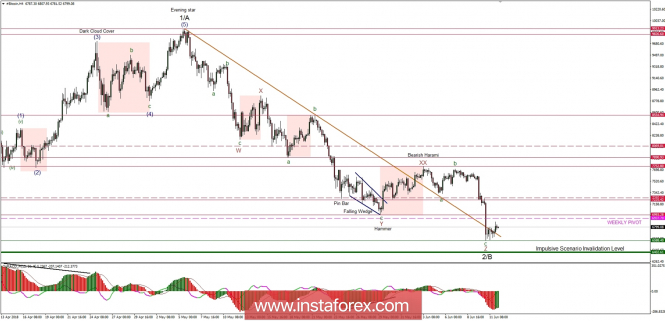 The material has been provided by InstaForex Company -
www.instaforex.com