The speeches of a number of representatives of the Federal Reserve System, as well as good fundamental data, supported the US dollar, which continued its strengthening against the euro and the British pound on Tuesday, May 15.
Recently, many representatives of the Federal Reserve focused their attention on the need to further raise interest rates in view of good economic performance.
For example, yesterday, Robert Kaplan said that US GDP will grow by 2.5% -2.75% this year, as the short-term outlook for the economy remains very good. In his opinion, it would be correct to continue raising interest rates.
Data on the growth of confidence of American builders also contributed in part to the growth of the market. According to the report of the National Association of Housing Builders, the calculated housing market index in May 2018 increased by two points, to 70 points. The April index was revised downward, to 68 points. Economists had expected the index in May to be at 69 points.
A report from the US Department of Commerce on the growth of retail sales has increased demand for the US dollar.
According to the data, retail sales in April this year rose by 0.3%, which fully coincided with the forecasts of economists. Increase in sales growth will certainly contribute to the economic growth of the United States. Excluding cars, retail sales also grew by 0.3%.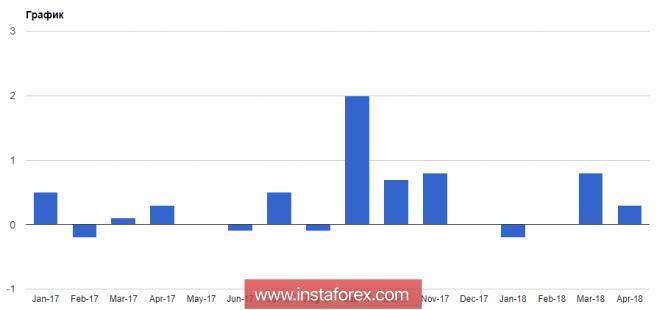 The speech of economist and deputy chairman of the Federal Reserve Richard Clarida in the US Senate influenced the mood of investors. Clarida said that it will focus not only on the level of unemployment, but also on other indicators of the labor market, as the growth of wages is important for economic growth, productivity, and technology. According to Clarida, apart from the desire for full employment, the Fed needs to concentrate on increasing wages.
Another representative of the Fed, Williams also spoke about interest rates in his speech.
FRB of San Francisco President Williams said that three or four rate increases this year is correct for the Fed in the current situation, since the neutral rate level is still near the historical minimum of 2.5%. Williams, like his colleagues, expects the US economy to grow by 2.5% in 2018 and 2019.
As for the technical picture of the EURUSD pair, the bears clearly aimed at fresh lows around 1.1700, but for this to happen, it is necessary to overcome support in the area of 1.1820. The breakthrough of this level will lead to further sale of risk assets with the test of levels at 1.1770 and 1.1740.
The material has been provided by InstaForex Company -
www.instaforex.com