Good performance in the US economy, albeit not so important, helped to keep the US dollar against its euro and pound, while risky assets continue to remain under pressure amid political tensions in relation with the Italian government.
Let me remind you that Italy's two populist parties, which are developing an agreement on a coalition government, may undermine the strength of the euro. Some experts believe that the new government may require the European Central Bank to write off a significant part of the country's debt, which could seriously affect the position of the European currency on the world market.
Yesterday, the data on the growth of production activity in the area of responsibility of the Federal Reserve Bank of Philadelphia came out in the second half of the day. The increase in activity was due to new orders and higher producer prices.
According to the report, the index of business activity in the region increased to 34.4 points in May 2018 against 23.2 points in April. The index of future business activity fell to 38.7 points in May against 40.7 points in April.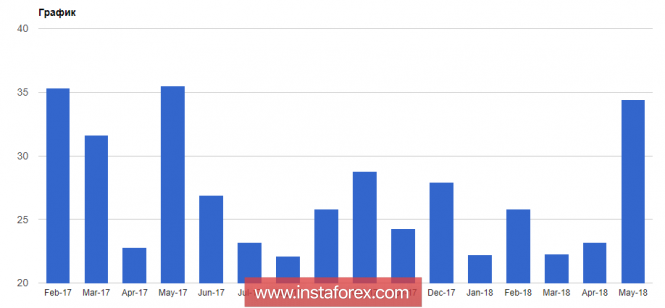 Data from the Conference Board also managed to support the US dollar, as they pointed to economic trends in the US, which continued to grow in April. According to the report, as in March, the index of leading economic indicators increased by 0.4%, to 109.4 points.
Yesterday's speech by Fed representative Neil Kashkari did not concern monetary policy. Basically, he spoke about the absence of problems and signs of soap bubbles in the financial markets, and also that the high demand in the labor market prompts a greater number of companies to conduct additional training courses for their employees.
As for the technical picture of the EURUSD pair, the next "hovering" in the side channel will rather benefit the sellers of the euro, since the lack of a good demand for risky assets will lead to a new downward wave in the trading instrument on the trend. The breakthrough of support 1.1770 will open a good prospect of a decline to new lows in the area of 1.1740 and 1.1710. You can talk about the upward correction only after a confident return to the middle of the channel 1.1810 and update the upper limit of resistance in the area of 1.1850.
The Japanese yen ignored the data, which indicated that the rate of price growth in Japan slowed in April this year. This happened because of a weak increase in energy prices, and therefore it is not necessary to speak about the achievement of a target inflation rate of 2% in the near future.
According to the report of the Ministry of Internal Affairs and Communications, the basic consumer price index, which does not take into account food prices, in April rose by 0.7% compared to the same period last year.
The material has been provided by InstaForex Company -
www.instaforex.com