The British pound leads in the way for a group of currencies that are trying to correct the dollar's recovery from previous days. Partially responded to this is higher than expected reading of the PMI index for the construction sector (52,5 vs. 50.5 expected, 47.0 prior), but equally important may be the latest news from the United Kingdom regarding work on the Brexit contract. The press in the UK informs that Prime Minister Theresa May is inclined to support the hybrid customs agreement with the EU, despite the fact that such a solution has many opponents in the Conservative Party.
British Prime Minister Theresa May wants to push the so-called hybrid "Customs Partnership" with the EU. In principle, Great Britain will pre-map EU customs rules and collect customs duties and charges on behalf of Brussels. If London were to change tariffs in the future, importers will be able to ask the customs office for a refund if the final destination was Great Britain. Such a solution would avoid difficult solutions at the border between the EU and Great Britain, especially on the island of Ireland.
This solution is the most advantageous market because from the economic side it is the quintessence of "soft Brexit". According to supporters, it allows free trade with the rest of the EU, while giving freedom to define customs law with the rest of the world. However, the proposal is severely criticized by prominent members of the Conservative Party. Eurosceptics draw attention to the administrative complexity of "mixing" of systems, which can ultimately lead to the United Kingdom never coming out from under the dictates of the EU.
Let's now take a look at the GBP/USD technical picture in the H4 time frame. The market has bounced from the 1.3580 support, but the technical resistance at the level of 1.3711 has not been tested yet. The market conditions are extremely oversold at this time frame, so the corrective pull-back can occur soon.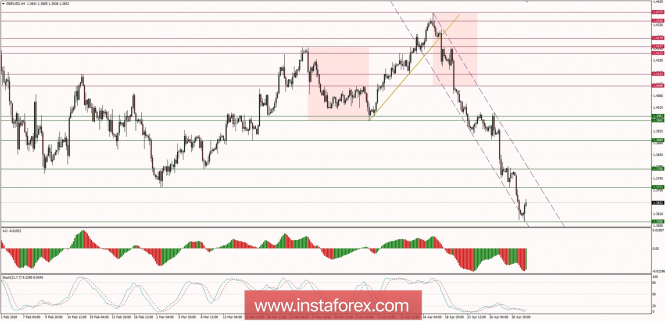 The material has been provided by InstaForex Company -
www.instaforex.com