EUR/JPY has been impulsive and non-volatile with the bearish gains since it bounced off 133.00 resistance area recently. JPY has been quite strong with the gains while EUR was struggling with the mixed economic reports.
Despite the mixed economic reports today, JPY lost some grounds against EUR. Today Japan's Average Cash Earnings report was published with an increase to 2.1% from the previous value of 1.0% which was expected to be at 1.1%. Besides, the Leading Indicators report was published with a decrease to 105.0% from the previous value of 106.0% which was expected to be at 105.2%. Though the slightest decrease was observed in the Leading Indicators report, a sudden fall of the Japanese currency against the euro injected some volatility and indecision in the market today.
On the other hand, today the French Industrial Production report is going to be published which is expected to decrease to 0.4% from the previous value of 1.2% and the Italian Retail Sales is also expected to decrease to 0.1% from the previous value of 0.4%.
As of the current scenario, EUR has been forecasted to have worse outcome whereas JPY has been quite positive with the economic reports today. If EUR manages to provide better than expected results on the upcoming economic reports, then certain bullish pressure may be observed along the way which might lead to short-term upward momentum in the pair as the long-term trend is still bearish in nature. To sum up, EUR is expected to gain short-term momentum over JPY in the coming days before JPY continues its bearish trend in future.
Now let us look at the technical view. The price is currently residing at the edge of 129.50 after having an impulsive bearish trend for the last few days. The price is being held by the 129.50 support area which has been quite successful to push the price higher in the earlier days so there are certain chances of the price to push back higher towards the dynamic level of 20 EMA before sliding lower below 129.50 in the coming days. As the price remains below 133.00 area, the bearish bias is expected to continue further.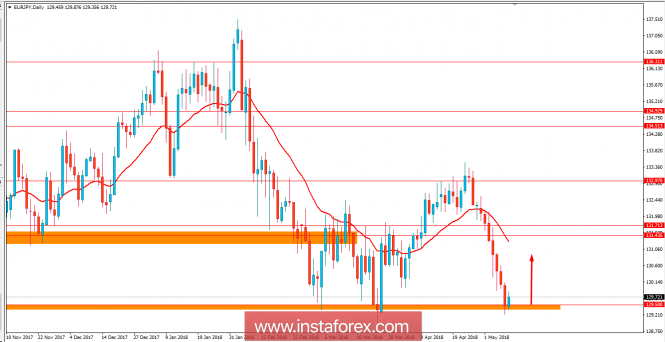 The material has been provided by InstaForex Company -
www.instaforex.com