USD / JPY
Yesterday, the Japanese yen slightly changed in price on the multidirectional external factors. Economic data on Japan, especially GDP, came out extremely weak, but the US stock market continued to grow than support the yen. The second GDP estimate for the first quarter showed a collapse of -0.2% against expectations of 0.0% and growth of 0.4% in the first estimate. In annual terms, GDP was -0.6% YoY against the forecast of -0.2% YoY. Capital quarterly expenses decreased by 0.1% against expectations of an increase of 0.4%. Consumer spending in the first quarter showed the expected 0.0% after the previous growth of 0.2%, and revised downward from 0.5%. The only good news was the growth of industrial production in March by 1.4% against the forecast of 1.2%. But capacity utilization increased by 0.5% only against expectations of 1.0%.
Today, important economic data continued to emerge. Basic orders in mechanical engineering in March collapsed by 3.9%, and the forecast was also quite weak at -2.7%. On an annualized basis, this indicator fell from + 2.4% YoY to -2.4% YoY. The forecast assumed a weakening of growth only to 0.3% YoY.
At present, the Japanese yen has shown extraordinary stability but the yen loses only 10 points, as of this writing. And the Japanese currency is holding together with the Nikkei 225 stock index, which shows an increase of 0.63%. While the Australian S&P / ASX 200 fell by -0.43%, the Chinese Shanghai Composite by -0.23% and the South Korean Kospi SEU by -0.08%. Together with the Nikkei 225, the Indonesian IDX Composite is up to + 0.78%.
If the yen's growth continue, it can be safely assumed that the JPY will grow in the range of 110.85-111.10 exclusively on the optimism of the US stock market.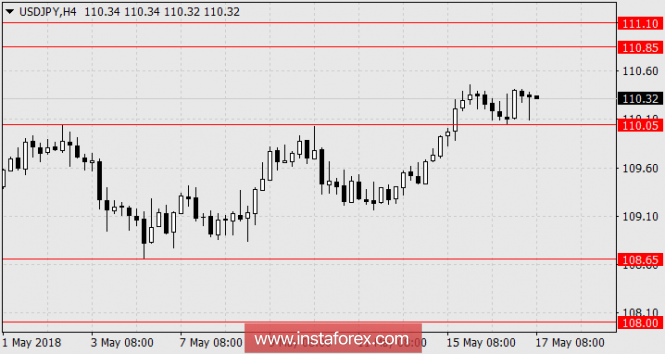 * The presented market analysis is informative and does not constitute a guide to the transaction.
The material has been provided by InstaForex Company -
www.instaforex.com