Yesterday evening, the British pound marked a strong sell-off, as the market was scared of a cautious tone in an interview with the president of the Bank of England Mark Carney, which was perceived as a reduction in chances for interest rate hike at the May meeting. However, a detailed analysis of his interview suggests to me more optimism in relation to the future BoE policy, and consequently to the pound.
Carney stated in an interview that the interest rate increase is "probable later this year". There was no exclusion of the May deadline, but also confirmation because Carney stated that "the decision is not a foregone conclusion". But that was enough to include panic mode among the owners of long positions in the pound.
The Bank of England is not in the habit of announcing his decisions, and three weeks before the meeting, Carney tried to be as flexible as possible. He added that there are "other meetings" by the end of the year, but the Council "will look at everything around" in this situation, including Brexit and the given situation. In the latter matter, Carney remarked that there is nothing to draw a hasty conclusion from the one-off weakness of readings. I would also like to mention investors in the GBP market, because in three weeks it may turn out that yesterday's panic was unfounded, and Carney only wanted to verbally slow down the appreciation of the currency (which central banks usually do not like). Today, noteworthy will be the speech of M. Saunders of BoE - it is one of the two members of the Council, who wanted to raise last month. I doubt Saunders will suddenly change his hawkish views, so a confirmation can support the pound. For now, however, the valuation of the May hike has undergone a solid search and now the market sees a 50:50 chance against 90%. at the beginning of the week.
Let's now take a look at the GBP/JPY technical picture at the H4 time frame. The market has broken below the technical support at the level of 151.17 and made a new local low at 150.96 despite the oversold market conditions. The momentum is still pointing to the downside, so as long as the level of 152.01 is not clearly violated, another slide down towards the level of 150.64 is expected.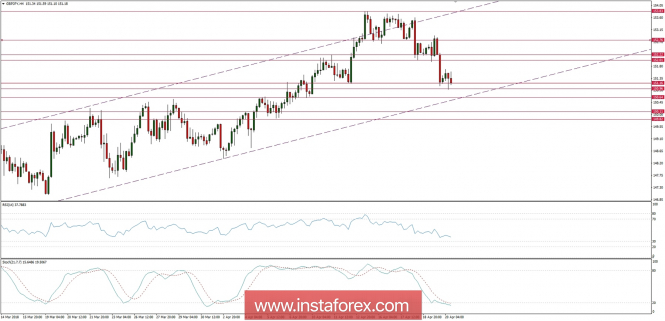 The material has been provided by InstaForex Company -
www.instaforex.com