Ewald Nowotny, the head of the Austrian central bank and a member of the Governing Council of the ECB disturbing the calm of investors building skepticism around the EUR. However, his hawkish comments do not harmonize with the series of weaker data from the Eurozone, so cautiously with enthusiasm. Today, the USD has to face the CPI and the FOMC protocol, where the risks are opposed.
Nowotny, who is the leading hawk, said that the QE program will be closed by the end of the year, which would open the way for rate hikes. According to Nowotny, the first move may concern the deposit rate and amount to 20 bps from -0.4%. up to -0.2 percent. This is the first case when a member of the ECB gives particulars for monetary policy, although Nowotny did not specify the date of the increase. The ECB spokesman was unprecedented as well, who stressed that Nowotny's words were his private opinion. It has never happened before the spokesperson puts such a clear cut off from the Council member's words, which should give rise to the thought that the discussion on interest rates in the euro area is still at a very early stage. And from a macroeconomic point of view, now is the worst moment in months for considering tightening. In recent weeks inflation has disappointed, PMI indexes are moving away from highs, and readings from industrial production from Germany, France and Italy have shown an unexpected weakness. As a result, the market had reasons to increase its skepticism towards the EUR, but yesterday Nowotny's comments shook investors' confidence.
Let's now take a look at the EUR/USD technical picture in the H4 time frame. Balance has been disturbed and some short positions have been removed from the market, which does not change the fact that EUR/USD still remains in a consolidation between the levels of 1.22-1.25. Moreover, the EUR bulls might lose enthusiasm for growth as soon as tomorrow's minutes from the ECB meeting in March show that Nowotny is in the minority with his bold theses. Today, however, there are still FOMC Meeting Minutes to be published, so the market response might get violent after this event.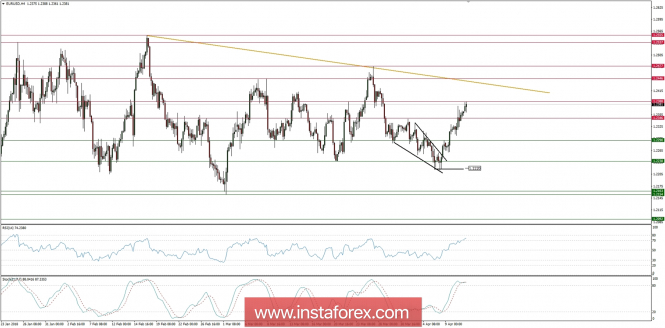 The material has been provided by InstaForex Company -
www.instaforex.com