The USA continues the process of limiting the freedom of trade with China and, at night, presented a list of approximately 1,300 products to which 25% will be imposed a duty. Restrictions are expected to reach 50 billion USD for which the White House has allegations of misuse of intellectual property and technology originating in the US. In addition, the announcement did not bring anything new beyond what investors knew when the Trump administration made the first move as part of the trade war with China, so there is no panic sale in the markets. In response to US decisions from last month about tariffs imported into goods from China, today Beijing has announced similar restrictions for US goods. China plans to include a 25-percent with a good value of USD 50 billion, including airplanes, chemicals, whiskey, cigars, soy, maize, beef. In the first reaction, the decision hit USD and affects the deterioration of market sentiment. China's decision is equivalent to retaliation. Customs for importing soybeans will hit American farmers, some of whom depend on sales to China. In addition, regions, where soy is grown, are the backbone of Trump's support, so his trade scuffles with China may weigh on the results of the autumn election to Congress. So the details of Beijing's decision may have a hidden political bottom, which Trump can answer in his 'style'.
For now, the yesterday's rebound in Wall Street after the Monday's collapse tones emotions, but also leaves investors in a blind search for direction. Although the market participants still do not see any reasons to abandon the expectations of a widening of risk aversion in the coming weeks, at this moment there is no power to clearly approximate such a scenario. Just as well this week will be marked by the expectation of the NFP report with the hope of a strong impulse.
Let's now take a look at the SP500 technical picture at the H4 time frame. After the new local low was made at the level of 254.64, the market has bounced towards the technical resistance at the level of 260.79 and is currently trading around this level. This is very hard to break technical resistance zone with the resistance at the levels of 260.79, 262.70, 265.70 and 266.82. So if this zone is broken again, then the bulls might target the unfilled gap between the levels of 268.89 - 270.30.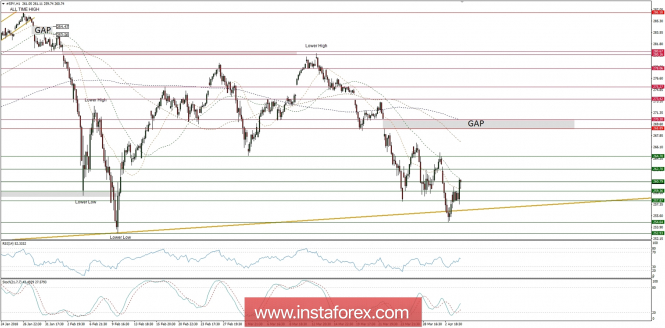 The material has been provided by InstaForex Company -
www.instaforex.com