The British Pound might get into the more bearish pressure that can clearly evolve in the coming weeks. At the beginning of the year, the markets were more optimistic about the prospects for the next phase of Brexit negotiations, which will officially take place in March 2019. Better macro data allowed to shift attention towards speculation about interest rate hikes by the Bank of England. The markets are pricing such a possibility on 60% in May 2018. Now it turns out that the main problem may be that somehow managed to alleviate in December: the case of Northern Ireland. The initial proposals released by Brussels yesterday, assume that the economic boundary between Great Britain and the EU will be delimited by the Irish Sea, not Ireland and Northern Ireland, which is to remain within the customs union. This caused strong opposition from London, which accused the EU almost an attempt to annex Northern Ireland. This should not come as a surprise because Prime Minister May's government exists only thanks to the conditional support of the North Irish Unionist party (DUP), whose Brussels proposals weakening ties with London are not on the way.
Today, European Union President Donald Tusk warned the UK that it can't expect frictionless trade outside the Eurozone single market, lowering again Prime Minister Theresa May's expectations a day before she's due to deliver a major speech on her vision for the post-Brexit relationship. Tusk's intervention is another sign the EU won't compromise its main principles and the UK has only one month left to prepare for the crucial EU summit and reach agreement on a transition period, borders and start discussing future trade agreements.
Let's now take a look at the EUR/GBP technical picture at the daily time frame. The market is locked between two main support and resistance zones: 0.8688 - 0.8759 (support) and 0.8991 - 0.9048 (resistance). Only a clear and sustained violation of one of this levels might provide more clues to where the market is heading next: whether it is gonna test the swing high at the level of 0.9305 again or decline towards the level of 0.8384.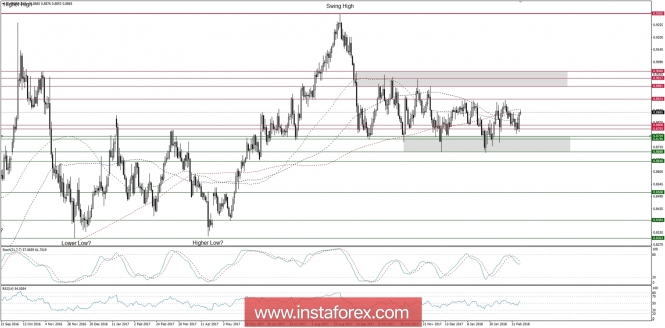 The material has been provided by InstaForex Company -
www.instaforex.com