The American car manufacturer Ford has filed a patent for a device for communication between vehicles, which includes exchanging cryptogram tokens to liquefy traffic, informs U.S. Patent and Trademark Office (USPTO). Ford claims that traffic congestion arises "because of the psychology of human drivers who focus on their individual travel time preferences." The patent suggests a way to circumvent these individual preferences with the "shared managed commute to pass and fail" (CMMP) system. The application discusses the possibility of communication of cars equipped with CACC (communication models and common adaptive cruise control) with other cars through the exchange of CMMP tokens, changing their priority from individual to group traffic flow. Cars with this communication system will exchange CMMP tokens in individual transactions, which, as a way to manage traffic, can, for example, cause a car to take slower lanes or allow another car to enter the lane and if necessary overtake. Cars that devoted their individual time preferences for the sake of smooth traffic would receive tokens from other participating vehicles. Another example is the situation in which the driver is late for a meeting. He has the ability to send a request to overtake any vehicle for the next 10 minutes in exchange for a certain number of chips.
German automaker and parent company Mercedes-Benz, Daimler AG, introduced its own digital currency based on Blockchain earlier this month, which rewards environmentally responsible drivers with coins that can be exchanged for VIP events.
Let's now take a look at the Bitcoin technical picture at the H4 time frame. The market is very close to the level of $7,253 which is an invalidation level for the main impulsive scenario. The current local low is seen at the level of $7,500 and this low might be the end of the five wave decline in the wave (c) of the wave 2 overall correction. To confirm the low is in place the price must break out above the dashed violet trend line and head towards the level of $8,151.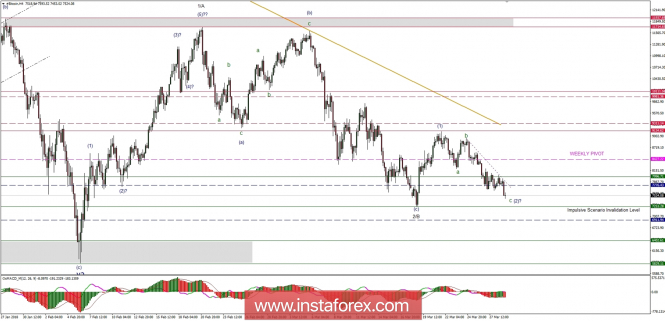 The material has been provided by InstaForex Company -
www.instaforex.com