The post of President of the People's Republic of China, Xi, took place at a time that only apparently required a new head of state to carry out far-reaching reforms. Going back in time, you can see that the first months of Xi's power are primarily the presence of relatively strong shocks generated by financial markets. The Chinese economy was surprisingly well prepared for perceptible shocks, which ultimately translated into maintaining high and stable economic growth and lack of deepening the existing imbalances. Currently, the Chinese authorities face problems of a much larger caliber, which can not be solved by one modest package of laws.
The decision of the Chinese Communist Party may lull the Xi cabinet a little, which will be much more gentle in solving structural problems. The delayed decision-making process at the highest levels will only contribute to the deepening of macroeconomic discrepancies and will keep the risk of a sudden deterioration in the condition of local financial institutions. Analyzing only the observed attempt to consolidate power, we note that it may be beneficial in the medium term for the strength of the yuan - despite the increased uncertainties associated with the process of further market opening. The global investors expect, that in the coming months the strength of the Asian currency will depend on the plans related to the minimization of systemic risk, deleveraging or minimizing the percentage of non-performing loans.
Let's now take a look at the Gold technical picture in the H4 time frame. The yellow metal is a very popular asset to invest in China, which is why it is worth to take a closer look at the market behavior. Recently, the price has bounced from the level of $1,322 and currently is testing the black trend line resistance from the bottom. Any breakout through the level of $1,344 would indicate a possible rally towards the last swing high at the level of $1,365. On the other hand, a failure would strengthen the bears and make suggest a push lower, towards the level of $1,322 or even $1,311.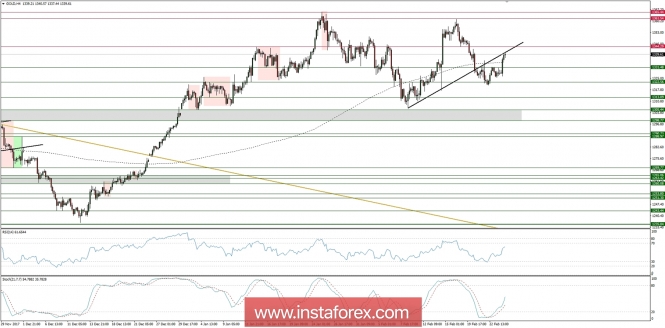 The material has been provided by InstaForex Company -
www.instaforex.com