Trading plan 01/24/2018
The general picture: The new head of the Fed, Jerome Powell, takes over on February 3.
On January 23, the US Congress approved the new head of the Fed in office by an absolute majority, 85 against 12.
Jerome Powell will become the head of the Federal Reserve on February 3.
The outgoing head of the Fed, Janet Yellen, will hold a meeting of the Fed on January 31.
The news was slightly worried about the market and went virtually unnoticed against the background of the budget crisis in the US. As you obviously know, the decision to finance the government was taken with great difficulty by the US Senate on Monday but this temporary solution is only until February 8.
The main news ahead is the ECB's meeting on monetary policy on Thursday, January 25.
The market is waiting for the curtailing of the liquidity program? When? What about ECB rates?
Probably strong movement.
In the morning on Wednesday, the euro broke through the January highs at 1.2325.
GBP/USD:
The pound rose sharply to 1.4030 and purchases at such prices are unattractive.
The sales from 1.4140 are possible, and the stop is not more than 45 pp.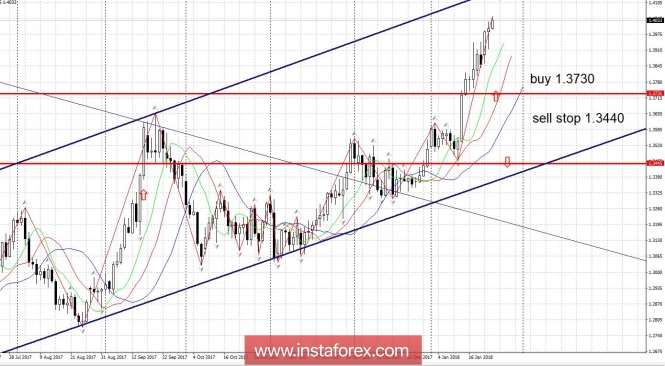 The material has been provided by InstaForex Company -
www.instaforex.com