Isabelle Mateos Y Lago, the main strategist of many assets in BlackRock, a $ 5.7 billion asset management corporation, said the company was working on a thorough cryptocurrency assessment. In an interview, for Bloomberg TV on Monday, 29 January, the CEO said that although cryptocurrency is not currently an "asset-able" investment, it actively follows progress because it "evolves very quickly." Larry Fink, who last week appeared at the World Economic Forum 2018, described space as a "money laundering rate" and said he was not planning to enter the future ETF Bitcoin arena. Although the dust settled on the Japanese Coincheck stock market after stealing $ 530 million, Mateos Y Lago sees no reason to completely reject the cryptocurrency investment: "It is a fact that interest persisted despite repetitive attacks.|- she continued, describing the demand of Bitcoin customers in BlackRock.
By adopting the perspective "not now, but maybe later" on the interaction, BlackRock reflects the mood of the head of Deutsche Bank, Markus Mueller, who also told Bloomberg that the crypto market is for speculative investors, and for the next five to ten years he should follow the regulations, allowing treating it as an "established class of assets".
Let's now take a look at the Bitcoin technical picture at the H4 time frame. The market is still consolidation around the weekly pivot at the level of $11,143 and the channel is still being well maintained. The key technical support remains at the level of $9,151 and the key technical resistance for the short-term traders is seen at the level of $12,737.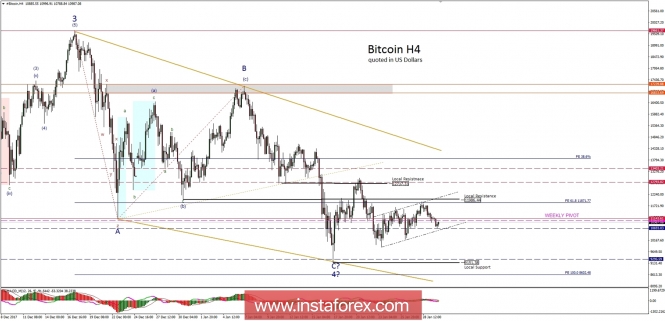 The material has been provided by InstaForex Company -
www.instaforex.com