Neither better than expected (+228k) increase in NFP Payrolls employment, nor the preservation of unemployment from December 2000 at a minimum level of 4.1% could not exceed the disappointing salary statistics. The failure of the wage growth index in the annual (+ 2.5%) and monthly (+ 0.2%) settlements to reach the consensus of forecasts is weighing on the positive sentiment among the US Dollar bulls.
Investors still do not want to believe in Greenback and one is enough for them as a significant factor to return to buying EUR / USD again. Neither the tax reform in the US, nor the impressive US GDP growth, nor the historical maximum of US stock indices, nor the divergence in ECB and FED monetary policy, nor an increase in confidence in Donald Trump's economic policy does not deprive them of a desire not to buy, not recently glistening. fundamental drivers, the euro. Markets are upset because of the risk of the Federal Reserve's concern about slowing inflation. The private consumption expenditure index in October increased by 1.6%, the base indicator - by 1.4%. The target at the level of 2.0% is still far away, and more importantly, even close to the level of full employment, the economy can not generate the required inflation for the time being. In this case, the slower than expected rebound in the average wages after the hurricanes in the USA only increases the risk of "hawkish" rhetoric of Janet Yellen during the FOMC meeting in Wednesday this week.
In conclusion, at the next FOMC meeting, Jannet Yellen will most likely hike the interest rates to 1.50% and raise the economic forecast by 2.5% in this and next year, and replaced by Stanley Fischer Jerome Powell from the beginning was adopted as the new hawk of the Federal Committee for Open Market Operations.
Let's now take a look at the US Dollar Index technical picture at the H4 time frame. The market has managed to break out above the upper channel line and hit the level of 94.05, which is just above of 127% Fibo Expansion. The nearest technical support is seen at the level of 93.51, but the key technical resistance zone between the levels of 94.18 - 94.41 will be tough to break.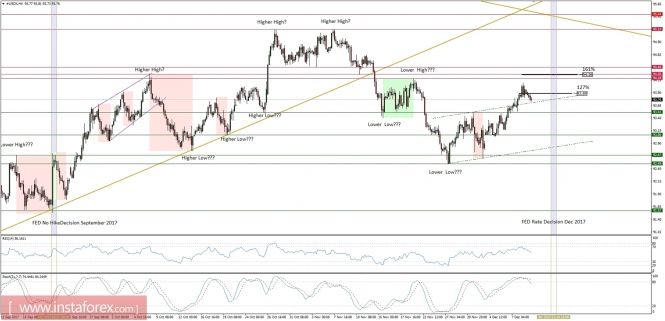 The material has been provided by InstaForex Company -
www.instaforex.com