The moment awaited by investors has become a fact. On Sunday, Bitcoin futures began trading. Despite the problems created by the big banks, the quotes started immediately, despite the fact, that the trade had to be halted twice because of reaching the upper limits of the price range.
The race in the launch of Bitcoin futures was won by the CBOE (Chicago Board Options Exchange), where the pre-session quotes (ie outside the official duration of the CBOE stock exchange session) took off on Sunday afternoon local time (around midnight GMT time). The deadline for launching contracts has begun a major correction, which took place in the Bitcoin market. After reaching record highs on Friday (depending on the source of data, Bitcoin beat $17,000 according to Coindesk, or even $18,000, according to Coinmarketcap), the Bitcoin rate fell by nearly 25%, approaching $ 13,000 on Sunday morning. But then, as usually after such big corrections on Bitcoin, the exchange rate strongly rebounded and on Monday morning Bitcoin quotations again exceed $16 500. This means that over the last 24 hours, nearly 25% could be gained on the Bitcoin itself, and over 10% on the north on Monday.
Next week, another US stock market will launch quotes for Bitcoin futures - it will be CME (Chicago Mercantile Exchange). For both CBOE and CME, Bitcoin contracts are not "physically" based on Bitcoins, which means that the buyer of the contract after its expiration, will not be able to demand the "physical" delivery of the underlying instrument for Bitcoins. Contracts will only be settled in cash.
Let's now take a look at the Bitcoin technical picture at the H4 time frame. The market has made an abc correction towards the level of $12, 627 and then rebounded towards the all-time highs. Please notice, that there is still one more wave missing, wave (v), to complete the impulsive five-wave progression towards the new highs. The nearest technical support is seen at the level of $14,066.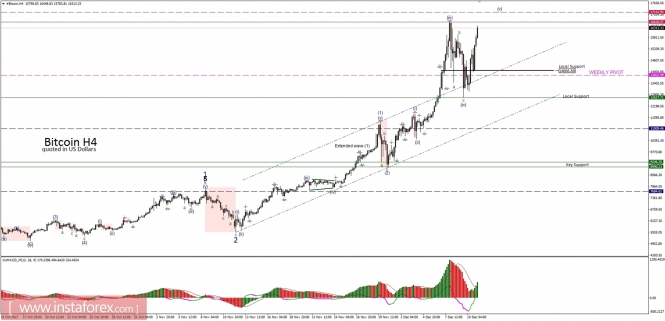 The material has been provided by InstaForex Company -
www.instaforex.com