Trading plan 04.09 - 09/08/2017
Overall picture: ECB, North Korea and Trump.
The beginning of the week made investors nervous. The unexpected test of a high-power hydrogen bomb (over 100 kilotons) by North Korea literally put the world on the verge of a big new war and probably, it will also include the use of nuclear weapons. This is quite serious even without the prices. US President Trump announced his readiness to strike North Korea earlier. More recently, there was the scandalous launch of a ballistic missile in the direction of Japan which was followed by another missile which flew over one of its islands.
So far, it seems that it has been decided that it will not cause explosions. The US and Japan are preparing to take the most stringent sanctions against North Korea and, quite probably, against any country that helps North Korea. Meanwhile, there is the speech about China given by the US. The US requires China to cut off supplies of fuel to North Korea of fuel. There is no Korea.
China did not agree yet. The question of sanctions on trade with China is a matter of enormous cost to the US which is extremely painful.
However, while we do not expect a blow, the markets have calmed down.
On Monday in the US, the holiday of "Labor Day", we predict that trade will be on low volumes.
The most important event of the week is the ECB meeting on Thursday. Markets are waiting for comments on the completion of the QE program which will be a huge change for the ECB.
While comments have been posted that the ECB will postpone the decision to change the policy for two meetings until December, everyone is still waiting on what Draghi will say on the plans of the ECB. So, on Thursday 14.45 Moscow time and 15.30 Moscow time, the speech of the head of the ECB will happen.
Also, important events on Wednesday are the ISM index of the US service and the evening Beige Book report from the Fed. We are waiting for volatility.
According to the current situation, there is news on the labor market in the US. On Friday, data came unexpectedly weak with 150+ thousand below forecasts. It should be noted that the EURUSD rate first went up quickly, but was rigidly sold and could not jump to the top, below 1.1900
Thus, the trend is upward for the EURUSD pair and will be under strong pressure. It is possible to exit both upward and downward, almost 50 to 50.
EURUSD:
We are waiting for movement.
Level up at the breakdown of 1.1980
Level down on the breakdown, according to H4, of 1.1845 and by the day of 1.1820.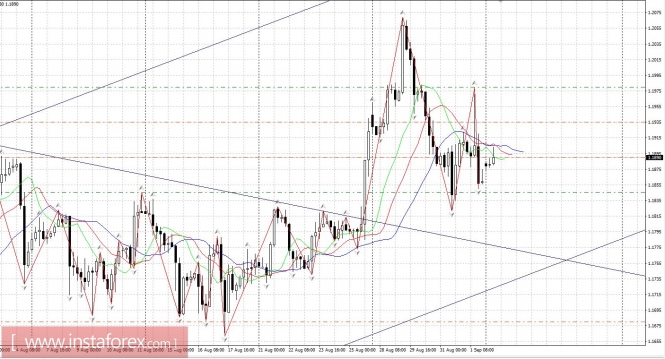 The material has been provided by InstaForex Company -
www.instaforex.com