A sharp turn for EURUSD on the Fed.
Morning review.
On Wednesday, everyone waited for the main event of the week, which is the Fed releases. The expectations were fully justified and caused a sharp turn in the EUR / USD pair.
What did the Fed decide? The rate on the dollar will be raised in December by + 0.25%, which is already expected. However, the three increases were supported for + 0.25% (that is, in the amount of + 0.75%) during 2018.
More importantly, the Fed will begin a long campaign to reduce the balance of assets by removing excess liquidity from the market (QE versa) in October.
This is undoubtedly the tightening of the Fed's monetary policy which is particularly in contrast to the continuation of stimulus into the markets from the ECB.
Thus, the sharp turn of the EUR / USD pair is quite in line with the basic understanding of the "fundamental analysis" on rate differentials. (What can not be said about the previous 6-month trend of the euro).
Therefore, the euro moved upward towards 1.2031 and sharply fell down with a breakout on psychological levels. The minimum for the week was 1.1910 and closed the day below.
What are we waiting for?
The resumption of the downtrend is anticipated and selling is continuous. However, if the attempt of the market for a breakdown, yesterday's low at 1.1860 failed, the price is possible to move further towards 1.1825 and 1.1835. Also, pullbacks will offer selling opportunities.
In the case of a breakthrough in the levels of 1.1825 and 1.1835, this could trigger the formation of a "triple top" type figure with the target up to 1.1600 on the H4 chart.
The euro is also under pressure because of the approaching elections in Germany on the next Sunday, September 24.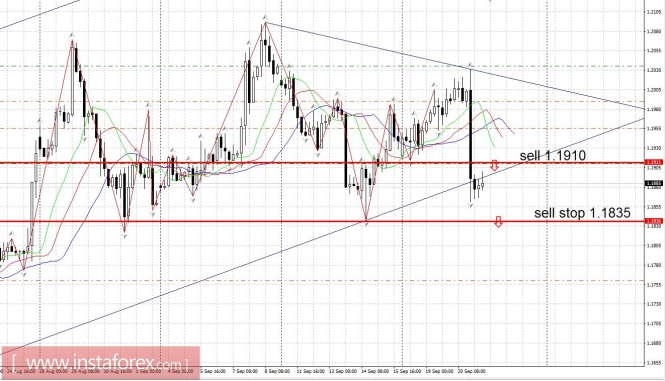 The material has been provided by InstaForex Company -
www.instaforex.com